Beta Carotene
Carotenes, especially beta-carotene, occurs abundantly in the natural plant world. It is estimated that nearly more than 500 different carotenoids such as ß-carotene, α -carotene, lutein, cryptoxanthins, zeaxanthins, etc., distributed throughout the plant and algae kingdoms. Although many of these have proven independent functions, around 50 or more can be metabolized to vitamin-A inside the human body.
ß-carotene is the most prevalent carotenoid in the plant sources of the food chain and, for the same reason, is also known as pro-vitamin A.
Roughly, 6 µg (range varies widely 6-18 µg) of ß-carotene is equal to 1 RE (Retinol equivalents) or 3.33 IU of vitamin-A.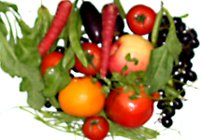 Fruits and vegetables rich in ß-carotene.