Selection and storage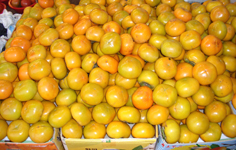 Persimmons in Seoul (South Korea) market.
Astringent variety persimmon fruits generally harvested while they are hard but fully matured. On the otherhand, Non-astringent types can be ready for harvesting when they achieved full-color and slightly soft in consistency.
Astringent persimmons usually continue to ripen at room temperature. Both kinds of persimmons should be gathered from the tree using hand-held pruning shears (as in mango), leaving the calyx intact, unless the fruit is to be used for drying while taking care not to bruise.
In the stores, select fresh fruits featuring bright yellow-orange color without any surface bruises or cuts on them. "Dried persimmons" can also be available readily in the supermarkets and feature many similarities to dried apricots.
Mature, hard, astringent persimmons can be stored in the refrigerator for several months. Non-astringent varieties have short shelf span and can be stored for only a few days at room temperature.
Preparation and serving methods
Persimmons can be consumed fresh, dried, or cooked. Raw fruits can be cut into quarters or eaten wholesome like an apple. Their texture ranges from a firm to mushy and is very sweet.
Here are some serving tips:
Dried persimmon fruits (hoshigaki in Japan) can be used in cookies, cakes, muffins, puddings, salads and as a topping in breakfast cereal.

Persimmon fruit pudding is a popular dessert which uses fresh fruits.

Dried fruits can be enjoyed as snacks or used in desserts. They widely employed to make traditional Korean spicy recipe, sujeonggwa, while a matured, fermented fruit is used to make persimmon vinegar called "gamsikcho"
Safety profile
Ripe persimmon fruits are safe for human consumption, including in the pregnant women. Allergic reactions to the fruit are very rare. (Medical disclaimer).
≻≻-Back to Fruits from Persimmon fruit. Visit here for an impressive list of all varieties of fruits with complete illustrations of their nutrition facts and health benefits.
≻≻-Back to Home page.
Further reading and Resources:
Agri life extension-Texas fruit and nut production.
---
---