Selection and storage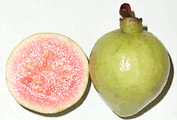 Guava fruits, pink-flesh variety.
In the tropical region, guavas can be readily available year-round. Red flesh varieties such as "Thai maroon" flesh guavas are richer in nutrition than green apple guavas. Oftentimes, the fruits are left to ripen on the tree to experience their intense, natural flavor. They can also be picked while green but mature, and later allowed to ripen at room temperature. Ripe guavas have a characteristic color and pleasant aroma.
In the stores, buy fresh fruits featuring intact skin without any cuts, bruises, or patches. Placing the fruit wrapped in a paper with a banana or apple will hasten its ripening process.
Mature, yet green fruits may be stored for two to five weeks under ideal, regulated temperature between 46°F and 55°F, and relative humidity of 85 to 95 percent. Over-ripe fruits may keep well inside the refrigerator only for a few days.
Preparation and serving methods
Wash them in cold running water in order to remove any dirt or insecticide residues. Fresh ripe guava is best enjoyed with its skin. Remove any floral remnants (sepals) at the apex, and then trim either end with a sharp knife. It can be cubed, or sliced into, as in apples.
Here are some serving tips:
Eat fresh guava as it is, to enjoy its natural flavor and unique taste.

Guava fruit juice is a popular delicious drink in many parts.

Sliced guava cubes are a great addition to fruit salads.

It is also often used in dessert preparations.

The fruit is also extensively used to make candies, preserves, jellies, jams, marmalade, etc.
≻≻-Back to Fruits from Guava. Visit here for an impressive list of all varieties of fruits with complete illustrations of their nutrition facts and health benefits.
≻≻-Back to Home page.
Further reading and Resources:
Stanford School of Medicine Cancer information Page- Nutrition to Reduce Cancer Risk.

Psidium guajava-pdf.

Anon. 1986. The useful plants of India. Publications & Information Directorate, CSIR, New Delhi, India.

Peter G von Carlowitz.1991. Multipurpose Trees and Shrubs-Sources of Seeds and Innoculants. ICRAF. Nairobi, Kenya.
---
---