Selection and storage
Mature Papaya usually is harvested once its skin slightly turns yellow. Organic Papayas are normally left to ripen on the tree. However, care should be taken since over-ripe fruits fall off the tree on their own and get spoiled.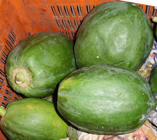 Raw, unripe green papaya.
In the markets, papayas come in various sizes and stages of maturity; therefore, select the one based on your serving size and timing. Choose the one with intact skin without any surface cracks, bruises, or cuts. Unripe fruits can be kept at room temperature for few days, but ripe ones should be stored in the refrigerator. Bring it back to normal temperature when it is to be eaten to get its natural taste and flavor.
Unripe green papaya cooked as a vegetable in many Asian and Pacific regions. However, it should not be eaten raw as it contains toxic alkaloids in its milky latex.
Preparation and serving method
Wash papaya fruit thoroughly in cold running water to remove dirt and any pesticide residues. Skin is bitter in taste and inedible. Remove skin with a "peeling knife," cut the fruit longitudinally into two halves. Gently remove seeds and thin slimy layer loosely adhering to the flesh. Cut the fruit longitudinally into wedges or small cubes.
Here are some serving tips:

Ripe papaya fruit is usually eaten raw as it is or with a twist of lemon drops and seasoned with salt and pepper.

Fresh papaya cubes are a great addition to fruit salads.

Papaya juice with ice cubes is a favorite drink.

Its cubes can be used in shakes, sorbets, salsa, etc.

Ripe fruit also goes well with chicken and savory seafood dishes.

Unripe green papaya can be used as a vegetable, either cooked, usually in stews, stir-fry, curries, and soups. Papaya flowers stew is a popular recipe in many South-East Asian regions.

Papain enzyme can be employed commercially to tenderize meat.
Safety profile
Papayas contain a white milk-like sap (latex) substance that can cause irritation to the skin and provoke an allergic reaction in some sensitized persons.
Pregnant women can safely use ripe papaya fruit. Unripe, green papaya should be avoided since it contains high levels of papain, a proteolytic enzyme. Additionally, unripe-papaya, its seeds, latex, and leaves also contain carpaine, an alkaloid that could be dangerous when eaten in high doses. Unripe papaya, however, can be eaten safely as a cooked vegetable. (Medical disclaimer).
≻≻-Back to Fruits from Papaya fruit. Visit here for an impressive list of all varieties of fruits with complete illustrations of their nutrition facts and health benefits.
≻≻-Back to Home page.
Further reading and Resources:
Stanford School of Medicine Cancer information Page- Nutrition to Reduce Cancer Risk.

Traditional and Medicinal uses of Carica papaya-PDF.
---
---