Selection and storage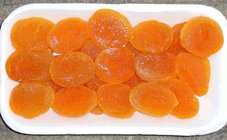 Dried apricots.
Apricot season lasts from May until September. Buy fresh, well-ripe, golden-orange color fruits that feature uniform size and a pleasant aroma.
Avoid those with pale yellow skin as they picked too early from the tree. Take care while handling ripe delicate fruits.
Store them in the refrigerator in an egg tray set at high relative humidity. Use apricots as early as possible.
Sundried apricots are equally famous as fresh fruits and can be readily available in markets worldwide.
Preparation and Serving method
Wash fresh fruits gently in cold water and pat dry with a soft cloth. Eat ripe fruit with its skin to get the maximum benefits.
Sliced sections of the fruit can be a great addition to salads.

They are also employed in jam, marmalade, syrup, and jelly preparation.
Safety profile
Dried apricots often bleached with sulfite gas which prevents them from oxidation to extend their shelf life. Bleaching is also done with other dried fruits like raisins, figs, etc. However, consumption of sulfite-treated bright orange apricots may cause acute bronchospasm in sensitized people who are suffering from asthma episodes. Therefore, sulfite-sensitive individuals can instead safely use unsulfured dry fruits that have a brown color. (Medical disclaimer).
≺≺-Back to Fruits from Apricot. Visit here for an impressive list of all varieties of fruits with complete illustrations of their nutrition facts and health benefits.
≺≺-Back to Home page.
Further resources:
USDA National Nutrient Database. (opens in new window)

Stanford School of Medicine Cancer information Page- Nutrition to Reduce Cancer Risk (Link opens in new window).
---
---