Okinawa diet
Okinawa diet plan, off late, has taken the center-stage of discussion among nutrition scientists, and health-conscious individuals alike.
What is so special about Okinawa islanders' diet?
One may wonder how East-Asians, especially Japanese live longer than their counterparts in other parts of the world. Indigenous Okinawa islanders, situated at the southern tip of Japan in the vast Pacific Ocean, have an interesting diet plan. People here, however, reportedly have the longest life expectancy than anywhere else on the planet!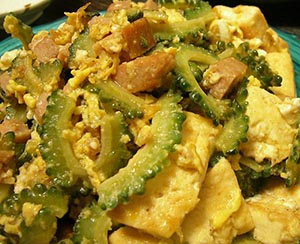 Goya chanpuru. Bitter melon slices stir-fried with tofu, onion and egg, in one of the Okinawa delicacies. Photo courtesy: jetalone
According to the report by a research agency, a typical Okinawan may live on an average for 100 years of healthy, and productive life. Many theories postulated that the secret of centenarians lies in their genetic constitutional makeup. However, recent community research studies on the Okinawa population suggest that the most important factor influencing their longevity is the simple food they consume, the knowledge handed over to them by their ancestors for centuries.