Selection and storage
In the store, choose leaves that feature a crispy outlook, bright in color. Avoid sunken leaves with spots or discoloration.
Each variety of lettuce features a unique keeping quality; hence, different methods should be applied while storing. Wash Romaine and loose-leaf lettuce and drain any excess water before storing them in the refrigerator. On the other hand, Butterhead need not have to be cleaned before storing it.
Pack them in a plastic bag or keep them inside the refrigerator. Romaine will stay fresh for up to seven days whereas, butterhead and loose-leaf types for two to three days.
Preparation and serving methods
Remove any discolored outer leaves. Then trim off their bitter tips. Chop the remaining leaf to your desired size and discard the stem/root portion.
Soak in saltwater for a few minutes to remove sand and parasite eggs and worms. Then, wash leaves in clean running water. Pat dry or use a salad spinner to remove the excess water.
Regardless of the type, all lettuces should feature crispy, fresh leaves that are free of dark or slimy spots. Varieties such as romaine and butterhead should have compact heads with no brown stems.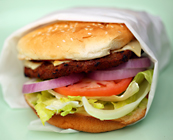 Cheeseburger with lettuce, tomato and onion.
Photo courtesy: Sharon
Here are some serving tips:
Raw, fresh lettuce is commonly used in salads, burgers, spring rolls, and sandwiches.

Chinese lettuce is ideal for stir-fries or stews and can be added to noodles as well as in fried rice preparations.

The leafy green also combines well with garden peas, green beans as well as seafood like shrimp, prawns, etc.
Safety profile
Pesticides are commonly applied on lettuce crops. Some of the common pesticides found in the leaves are organophosphorus, Permethrin, etc.
Wash thoroughly in cold water before using them in your food. However, organic-certified produce is found to be free of these toxins and can be safely used in cooking.
Lettuce contains moderate levels of oxalic acid; 0.33 mg per 100 g of fresh leaves. (Medical disclaimer).
Also read ≻≻-
≻≻- Iceberg-lettuce nutrition facts.
≻≻- Arugula (Salad rocket) nutrition facts.
≻≻- Lamb's lettuce (Mâche) nutrition facts.
≻≻- Stem-lettuce (Celtuce) nutrition facts.
≻≻-Back to Vegetables from Lettuce. Visit here for an impressive list of vegetables with complete illustrations of their nutrition facts and health benefits.
≻≻-Back to Home page.
Further Resources:
Watch your garden grow, University of Illinois Extension. (Link opens in new window).
---
---