Selection and storage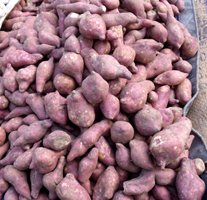 Sweet potatoes in a market.
Although sweet potato leaves are being eaten in some parts of the world, their root which is the toast of sweet potato lovers. In the markets, buy fresh tubers with intact smooth skin and firm consistency. Go for organic varieties for the best taste and nutrition levels.
Avoid soft, flabby, or wilted roots. Also, avoid those sound woody in texture as they tend to be excessive in fiber and unappetizing. As in potatoes, sprouting would make them lose flavor and unwanted.
Wash them in clean running water to remove sand and soil. They should be stored in a cool, dark, and well-ventilated place.
Preparation and serving methods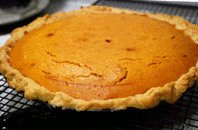 Sweet potato pie!
Photo courtesy: andycoan
To prepare, wash the root in cold water. It can be eaten raw with skin. However, for baking preparations, its skin may be peeled off before or after cooking.
Here are some serving tips:
Fresh sweet potatoes can be eaten raw.

Baking in water with a pinch of salt would give a delicious taste to them. Peel the skin before eating.

Delicious sweet potato soup. Photo: exfordy
Camote, sweet potato called as in the Latin world, is used extensively in the Mexican cuisine.

Camote cue, wherein the sweet potato chips deep-fried and caramelized with brown sugar, is a popular street food in the Philippines.

It is used in the preparation of soups, curries, stews, and in the confectionery to make cakes, pie, etc.

The tuber also used to prepare different kinds of baby foods.

Sweet potato chips are enjoyed as favorite snacks.
Safety profile
Sweet potatoes contain oxalic acid, a naturally occurring substance found in some vegetables that may crystallize as oxalate stones in the urinary tract in some people.
Therefore, individuals with a known history of oxalate urinary tract stones may have to avoid eating them. Adequate intake of water is, therefore, advised to maintain normal urine output in these individuals to minimize stone risk. (Medical disclaimer).
≺≺ Back to Vegetables from Sweet Potato nutrition. Visit here for an impressive list of vegetables with complete illustrations of their nutrition facts and health benefits.
≺≺ Back to Home page.
Further reading:
Vegetable directory page- University of Illinois extension (Link opens in new window).
---
---