Selection and storage
Brussel sprouts are cool-season vegetables. In general, sprouts harvested when their lower buds reach maturity and achieve about an inch in diameter. Fresh sprouts should feature firm, compact, and dark green heads. Avoid sprouts that featuring loose-leaf, yellowish, and light in hand.
Fresh sprouts keep well inside the refrigerator for up to a day or two. Remove any damaged or discolored outer leaves and store fresh unwashed sprouts in plastic bags/zip pouches in the vegetable container inside the refrigerator.
Preparation and serving methods
Before cooking, remove discolored and loosely attached outer leaves and trim the stem end. Wash in clean water and then soak for a few minutes in salt water to remove any dirt particles and insect eggs.
Fresh sprouts exhibit delicate flavor, however, overcooking results in the release of allyl isothiocyanates imparting sulfurous odor (pungent smell) to cooked recipes. Therefore, blanch sprouts in boiling water for just about 5 minutes, cool, and then add to the recipes.
Here are some serving tips: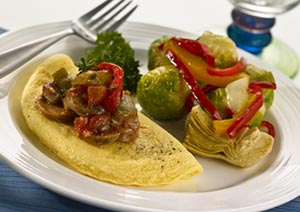 Roasted brussel sprouts with greens and stuffed omelette.
Photo courtesy: Justin Smith
Sprouts can be cooked boiling, microwaving or steaming.

Roasted and salted sprouts are one of the favorite snacks across Europe.

Blanched sprouts are braised/ mixed with other vegetables like carrot, green beans, or mushrooms.

The sprouts used as a favorite add-on in chicken casseroles.
Safety profile
Being a Brassica family vegetable, Brussel sprouts too may contain goitrogens, which may cause swelling of the thyroid gland and should be avoided in individuals with thyroid dysfunction. However, they may be used liberally among healthy perasons. (Medical disclaimer).
Also read ≻≻-
≻≻- Broccoli nutrition facts.
≻≻- Broccoli rabe nutrition facts.
≻≻- Cauliflower nutrition facts.
≻≻-Back to Vegetables from Brussel sprouts nutrition. Visit here for an impressive list of vegetables with complete illustrations of their nutrition facts and health benefits.
≻≻-Back to Home page.

Further reading and Resources:
Stanford School of Medicine Cancer information Page- Nutrition to Reduce Cancer Risk.
---
---