Selection and storage
Dried thyme herb leaves.
Both fresh and dried forms of thyme herb can be available in the herb store. Buy fresh thyme whenever possible since it is superior in nutrients and rich in flavor. The leaves of fresh thyme should feature light green, and be free from any dark spots or yellowing.
Fresh thyme should be stored in the refrigerator wrapped in a slightly dampened paper towel. Dried thyme can be kept in a tightly sealed glass container and stored in a cold, dark, and dry place, where it will stay fresh for up to six months.
Culinary uses
Thyme herb imparts intense flavor to the recipes, and therefore, should be added sparingly. In order to keep its fragrance and flavor intact, thyme herb is generally added at the final stages of the recipes. It is done to prevent evaporation of its essential oils in cases of extended cooking methods.
Here are some serving methods: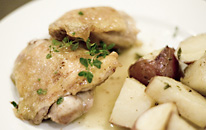 Thyme herb used to marinate chicken and vegetable recipes.
Photo courtesy: lizadaly
Thyme herb tea is a popular health drink.

Thyme has been used in the preparation of season soups, and sauces.

Thyme, along with other spicy items, has been used to marinate and stuff to chicken, fish, and meat recipes.
Medicinal uses
Thyme contains many important essential oils, which are found to have antiseptic and anti-fungal applications.

Throat gargling with tepid thyme water or drinking a few sips of thyme tea may help relieve coughs, sore throat, and bronchitis symptoms.

In the pharmacy, thyme-based formulations have been used as an antiseptic mouthwash in the treatment of caries and gingivitis. (Medical disclaimer).
≺≺ Back to Herbs from Thyme herb. Visit here for an impressive list of all variety of herbs with complete illustrations of their nutrition facts and health benefits.
≺≺ Back to Home page.
Further Resources:
Thyme Planting -Herb Growing in South Africa. pdf

Stanford School of Medicine Cancer information Page- Nutrition to Reduce Cancer Risk.
---
---