Phytonutrients in the Diet
Apart from the major food principles like protein, carbohydrates, and fats, a large number of food items that we consume consists of indispensable components known as phytonutrients or plant-derived chemical substances.
Although their contribution towards total calorific value is insignificant, including these inert compounds in our diet in adequate quantities is imperative. The potential benefits in terms of their direct contribution to health promotion and disease prevention are really enormous.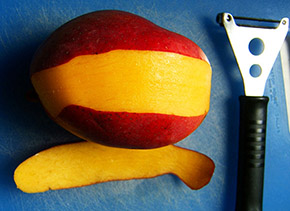 Mango peel with a fruit peeler.
Photo courtesy: ms.Tea
Changes in lifestyle and dietary patterns have resulted in new world illnesses like irritable bowel syndrome, coronary artery disease, diabetes, stroke, cancers, etc., in higher frequencies than before. Experimental epidemiological studies clearly suggest that the trends in disease patterns are closely linked to the diet we consume.
Consequently, a renewed interest has arisen in the medicinal properties of herbs, spices, vegetables, and fruits, including their peels.