Welcome to Nutrition Facts Blog
Nutrients are the constituents of food necessary for maintaining optimum body metabolic functions. Knowledge of the right nutrition helps us understand our daily requirements of calories, minerals, vitamins, and phytonutrients.
For instance, overweight or obesity puts you at risk of developing many diseases, especially coronary heart disease (CHD), stroke, diabetes, and cancer. The majority of these conditions can be avoided OR at least put off by adopting healthy eating habits.
The main objective of this blog is to guide viewers aware of the nutrition facts about the food they eat. The blog provides the in-depth profile of each food item available around you.
The Nutrition Blog keeps you updated with all additions and changes to the nutrition-and-you.com website. Please click the "share" buttons to spread the health message to your friends!
Continue reading on blog topics:
Quince fruit Nutrition facts and Health benefits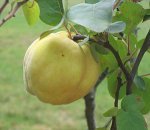 Aromatic, mystique, quince fruit is revered for ages as the golden apple in the epics. Those who taste dulce de membrillo (quince paste) would wonderfully appreciate its pleasant, aromatic flavor. Calories-57, Vitamin C -15 mg (25% DV)
Continue reading "Quince fruit Nutrition facts and Health benefits"
≻≻-Back to Home page from Nutrition facts blog page.
---
---