Welcome to Nutrition Facts Blog
Nutrients are essential components found in food that are vital for maintaining optimal metabolic functions in the body. Understanding proper nutrition helps us determine our daily needs for calories, minerals, vitamins, and phytonutrients.
For example, being overweight or obese increases the risk of developing various diseases, including coronary heart disease (CHD), stroke, diabetes, and cancer. Adopting healthy eating habits can significantly reduce the likelihood of these conditions or delay their onset.
The primary goal of this blog is to educate readers about the nutritional value of the foods they eat and provide guidance for making healthier dietary choices. The blog provides detailed information about a wide range of food options that can be found in your local area.
The Nutrition Blog also keeps you informed about any updates or modifications to the nutrition-and-you.com website. Please consider using the "share" buttons to help spread the message of good health to your friends!
Continue reading on blog topics:
Sea Scallops Nutrition facts and Health benefits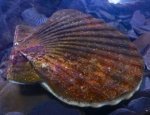 Sea scallops are a seafood option that offers lean and low-calorie meat. This mollusk is a valuable source of essential nutrients, including protein, omega-3s, and vital vitamins and minerals. A 3.5 oz (100g) serving contains just 69 calories, 12.1 g of protein (21% of the RI), 23% of RI of selenium, and 48% of the RI of Phosphorus.
Continue reading "Sea Scallops Nutrition facts and Health benefits"
≻≻-Back to Home page from Nutrition facts blog page.
---
---