Selection and storage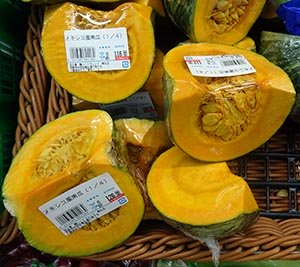 Pumpkin cut section in Japan market
Pumpkins can be readily available in the market year-round. Buy completely developed, whole pumpkin fruit instead of its sections. Look for mature fruit that features a fine woody note on tapping, heavy in hand, and stout stem. Avoid the ones with wrinkled surfaces, cuts, and bruises.
Once at home, ripe, mature pumpkin may be stored for many weeks to come under a cool, well-ventilated place at room temperature. However, cut sections should be placed inside the refrigerator where it can keep well for a few days.
Preparation and serving methods
Some hybrid varieties are usually subjected to insecticide powder or spray. Therefore, wash them thoroughly under running water in order to remove dirt, soil, and any residual insecticides/fungicides.
Cut the stem end, and slice the whole fruit into halves. Remove inner net-like structure and set aside seeds. Then cut the flesh into desired sizes. In general, small, uniform wedges are preferred in cooking.
Almost all the parts of the pumpkin plant; fruit, leaves, flowers, and seeds, are edible.
Here are some serving tips:
Pumpkin can be employed in a variety of delicious recipes either baked, stew- fried; however, it is eaten best after steam-cooking in order to get maximum nutrients. In China, young tender, pumpkin leaves consumed as cooked greens or in soups.

In the Indian subcontinent where it is popular as "kaddu or sitaphal," pumpkin is used in the preparation of "sabzi," sweet dishes (halwa), desserts, soups, curries, etc.

The fruit employed in the preparations of pies, pancakes, custard, ravioli, etc., in Europe and the US.

Golden nugget pumpkins are used to make wonderful soufflés, stuffing, soups, etc.

Roasted Pumpkin seeds (Pepita) can be eaten as snacks.
Also read ≻≻-
≺≺ Pumpkin seeds nutrition facts.
≺≺ Acorn squash nutrition facts and health benefits.
≺≺ Spaghetti squash nutrition facts and health benefits.
≺≺ Back to Vegetables from Pumpkin. Visit here for an impressive list of vegetables with complete illustrations of their nutrition facts and health benefits.
≺≺Back to Home page.

Further reading:
Stanford School of Medicine Cancer information Page- Nutrition to Reduce Cancer Risk (Link opens in new window).

Watch your garden grow-University of Agriculture Extension.
---
---