Selection and storage
Spinach is best available during the winter season. In the markets, buy fresh leaves featuring dark green color, vitality, and crispiness. Avoid those with dull/sunken leaves, yellow discoloration, and spots.
Once at home, wash them thoroughly in clean running water, and rinse in saltwater for about 30 minutes in order to remove dirt and any insecticide residues.
Although it can be stored in the refrigerator for up to a week, fresh leaves should be eaten at the earliest in order to get maximum nutrition benefits.
Preparation and serving methods
Wash leaves in cold water before using them in cooking. Gently pat them dry using a tissue or soft cloth. Trim away tough stems. Raw leaves can be either chopped or used as they are in a variety of recipes.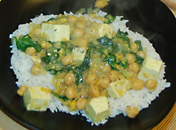 Spinach-rice with chickpeas and tofu.
Photo courtesy: scottfeldstein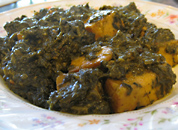 Palak-paneer. Thoroughly cooked spinach leaves mashed, sauteed and mixed with cheese cubes.
Here are some serving tips:
Fresh, tender spinach leaves (baby spinach) can be eaten raw either in salad and vegetable burgers or as juice. Antioxidant properties may decrease significantly on steaming, frying, and boiling for longer periods.

Alongside other vegetables/mushrooms, its leaves are used in the preparation of noodles, pie, pasta, pilaf (pulao), and soups as well as in the preparation of baby foods.

Prepare Mediterranean-style spinach souffle, casserole, lasagna, quiche, spinach-filled tortellini, etc.

In India and Pakistan, where it is popular as "palak," spinach features in a variety of delicious cooking such as "palak paneer" (Indian cottage cheese), aloo-palak (with potato), fried rice, chicken, and meat preparations.

In India and Bangladesh spinach is mixed with other seasonal greens like goosefoot (Chenopodium album), fenugreek, mustard greens, Malabar spinach (Basella alba), etc., to prepare "saag" which is eaten with unleavened bread (roti), and rice.
Safety profile
Reheating spinach leftover may cause the conversion of nitrates into nitrites and nitrosamines by certain bacteria that thrive on pre-prepared nitrate-rich foods such as spinach and many other green vegetables. These harmful compounds may be bad for health, especially in children.

Phytates and dietary fiber present in the leaves may interfere with the bioavailability of iron, calcium, and magnesium.

Because of its high vitamin-K content, patients taking anti-coagulants such as "warfarin" are encouraged to avoid spinach in their food since it interferes with drug metabolism.

Spinach contains oxalic acid, a naturally occurring substance found in some vegetables, which may crystallize as oxalate stones in the urinary tract in some people. Individuals with known oxalate urinary tract stones are advised to avoid eating certain vegetables belonging to the Amaranthaceae and Brassica family. Adequate intake of water is therefore advised to maintain normal urine output.

It may also contain goitrogens, which may interfere with thyroid hormone production and can cause thyroxin hormone deficiency in individuals with thyroid dysfunction. (Medical disclaimer).
Also read ≻≻-
≻≻- Arugula (Salad rocket) Nutrition facts.
≻≻- Lamb's lettuce (Mâche) Nutrition facts.
≺≺ Back to Vegetables from Spinach nutrition. Visit here for an impressive list of vegetables with complete illustrations of their nutrition facts and health benefits.
≺≺ Back to Home page.
Further reading:
Refer Vegetable information page - University of Illinois Extension. (Link opens in new window).

USDA National Nutrient Database.(Link opens new window)
---
---