Selection and storage
Fresh ripe tomatoes feature a beautiful bright-red color and a rich fruity flavor. In the markets, buy fresh, firm, and uniform-sized fruits. Avoid those with wrinkled surfaces, discolored spots, cuts, and too soft and mushy.
Firm, yellow fruits can be placed in a cool, dark place at room temperature for 2-3 days. However, ripe tomatoes are one of the easily perishable vegetables and should be stored in the refrigerator. Use them while they are fresh to obtain full benefits of natural vitamins and antioxidants.
Preparation and serving methods
Pests are common in tomatoes. Hybrid varieties are usually subjected to insecticide sprays. Therefore, wash them thoroughly in cold running water in order to remove dirt, soil, and any insecticide/fungicide residues.
To prepare, discard stem and top calyx end. Cut into desired halves, cubes, slices, etc. Peel the skin and puree its juicy pulp. Some prefer to discard seeds before adding them to cooking.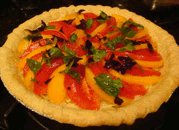 Tomato-onion cheese tart topped with basil.
Photo courtesy: Jennifer
Here are some serving tips:
Tomatoes employed generously in the cooking especially in Mediterranean, Greek, Italian, Southeast Asian, and East European cuisines.

Raw ones have extra acidic taste, but when mixed with other ingredients while cooking, they impart a wonderful flavor and rich taste.

All kinds of tomatoes, including cherry, are one of the commonly featured ingredients in salad preparations worldwide.

Fresh tomato juice and soup are popular healthy dishes served as an appetizer. Organic varieties hold three times more lycopene than non-organic fruits.

Delicious Spanish cold tomato and cucumber soup, gazpacho, is a popular Andalusian preparation.

Unripe, green tomatoes can be used in similar ways like other raw vegetables to prepare in curries, stews and to make "chutney" in some of the Indian states.
Safety profile
In general, allergic reactions to tomatoes are relatively rare. However, it may sometimes occur in sensitive individuals with symptoms like itching skin and eyes, runny nose, and gastrointestinal disturbances like stomach pain, vomiting, and diarrhea. (Medical Disclaimer).
≺≺ Also read- Cherry tomatoes nutrition facts and health benefits.
≺≺ Back to Vegetables from Tomato. Visit here for an impressive list of vegetables with complete illustrations of their nutrition facts and health benefits.
≺≺ Back to Home page.
Further reading:
Department of Horticulture- Purdue University Cooperative extension service. (Link opens in new window).
---
---