Selection and storage
Plums can be available year-round, but they are at their best between May until September. In the stores, look for fresh fruits featuring rich color and may still have a slight whitish "bloom" on their surface, an indication of a fresh harvest.
Avoid those with excess softness or with cuts or bruises. Ripe fruits just yield to gentle pressure and should feature a sweet aroma.
Slightly hard, but mature plums can be kept at room temperature until they completely ripen. Once ready, place them in the refrigerator, but should be brought back to room temperature just before eating them, which brings out their rich, natural flavor.
Store dry plums (prunes) at room temperature for a few days.
Preparation and serving method
Wash plums in cold running water just before using. Fresh ripe plum can be enjoyed as is, with its peel.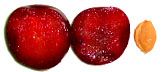 Cut section and pit.
Incise lengthwise deep into the flesh until its hard seed resistance felt, and then remove the pit. The skin may be peeled off using a paring knife as in apples. However, its peel not only provides good fiber but also carries some of the health-benefiting antioxidant pigments. Therefore, just wash the fruit and enjoy it without discarding the peel. You can also bake or stew them!
Here are some serving tips:
Plum sections can be a great addition to salads.

The fruits are being used in the preparation of pie, desserts, jams, and jellies.

They can also be used in a variety of recipes and are usually baked or poached.
Safety profile
Plums contain oxalic acid, a naturally-occurring substance found in some fruits and vegetables, which may crystallize as oxalate stones in the urinary tract in some individuals. Therefore, people with known oxalate urinary tract stones are advised to avoid eating plums. Adequate intake of water is advised to maintain normal urine output even if these people want to eat them. (Medical disclaimer).
≺≺ Read Prunes nutrition facts and health benefits.
≺≺ Back to Fruits from Plums. Visit here for an impressive list of all varieties of fruits with complete illustrations of their nutrition facts and health benefits.
≺≺ Back to Home page.
Further reading and Resources:
Stanford School of Medicine Cancer information Page- Nutrition to Reduce Cancer Risk.
---
---