Selection and storage
Fresh bell peppers can be readily available in the markets year-round. Buy fresh harvest featuring firm, bright fruits feeling heavy for their size.
Avoid excessively soft, lusterless, pale green color peppers. Furthermore, avoid those with surface cuts/punctures, bruises, spots, and shriveled stems.
Once at home, they should be kept in the refrigerator in a plastic bag where they stay fresh for about 3-4 days. They may sustain chill injuries if stored for extended periods.
Preparation and serving methods
In general, fresh bell peppers are treated just like any other vegetables in the kitchen. Their firm, crunchy texture together with delicate sweet flavor makes them one of the most sought-after vegetables for cooking.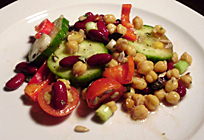 Chickpeas salad with beans, cucumber, bell pepper, tomatoes, scallions, pine nuts. Photo courtesy: sporst
To prepare, wash bell peppers in cold running water. Cut the stem end and discard it. This way, you can see its inside structure. Remove seeds from the central core. Now you have a hollow "cup shape" pepper. Chop it using a paring knife into cubes, rings or strips as in onions.
Although sweet peppers have the least capsaicin levels unlike other chili peppers, still they may inflict burning sensation to hands and may cause irritation to mouth/nasal passages, eyes, and throat. Therefore, it may be advised in some sensitive individuals to use thin hand gloves and face mask while handling them.
Here are some serving tips:

Pizza with banana peppers, green bell pepper, black olives, grape tomatoes, and onion. Photo: Lorena
Fresh, raw bell peppers are being used as vegetables in cuisine. They can be eaten raw in salads or cooked in stir-fries.

In many parts of South Asia, they mixed with other vegetables like potato (aloo-simla mirch), carrots, aubergine, green beans, etc., along with tomato, garlic, onion, mustard seeds, cumin, and other spices in various mouth-watering stir-fries (sabzi).

They can also be stuffed with rice, meat, cheddar cheese, dried fruits, nuts, etc., and, then cooked/roasted.

They can also be grilled and served with sauce, cheese, and olive oil or with dips.

Grilled peppers employed in delicious chickpeas (boiled garbanzo beans) salad with cucumber, tomatoes, scallions, pine nuts.

Finely chopped sweet peppers can be used in Chinese-style vegetable stir-fries and noodles.

Sweet peppers are one of the popular ingredients in Italian pizza and pasta.
Safety profile
The pungency level in bell peppers is almost 0-Scoville heat units (SHU). However, the seeds and central core may carry some amount of capsaicin, which when eaten may cause severe irritation and hot sensation in the mouth, tongue, and throat.
Note some of these points while handling capsicum annuum members in general:
Capsaicin in chilies, especially cayenne peppers, initially elicit inflammation when it comes in contact with the mucosa of oral cavity, throat, and stomach, and soon produces a severe burning sensation that is perceived as hot through free nerve endings in the mucosa. Eating cold yogurt may help reduce this burning pain by diluting capsaicin concentration, and preventing its contact with the stomach mucosa

Avoid touching eyes with pepper contaminated fingers. If done so, rinse eyes thoroughly with cold water to reduce irritation.

They may aggravate underlying gastroesophageal reflux (GER) condition. (Medical disclaimer).
Also read ≻≻
≻≻ Poblano peppers nutrition facts.
≻≻ Jalapeno peppers nutrition facts.
≺≺-Back to Vegetables from Bell pepper. Visit here for impressive list of vegetables with complete illustrations of their nutrition facts, medicinal properties, and health benefits.
≺≺-Back to Home page.
Further Resources:
USDA National Nutrient Database. (opens in new window)

Stanford School of Medicine Cancer information Page- Nutrition to Reduce Cancer Risk (Link opens in new window).
---
---