Buying
Fresh poblanos' peak season is summer and early fall. They are found in Mexican markets and in many supermarkets across the United States. They are also available canned in the groceries.
Choose firm, shiny, and fresh poblanos featuring firm stems from the farmers' markets. Fully grown, ripe poblanos turn reddish-brown and sweeter than raw green. Buy ancho/Mulato peppers in sealed packets from authentic sources.
Avoid dry, wilt, and pods with cracks, cuts, and surface bruising.
Storage
At home, store poblano peppers in a vegetable drawer inside the refrigerator set at high relative humidity. They keep well for up to a week when stored.
Roasted and peeled, poblanos can be preserved by either canning or deep-freezing.
Storing anchos in airtight containers will also suffice for several months. Anchos are often ground into a powder and used for flavoring recipes.
Preparation and serving methods
Poblanos are large, shiny, thick-skinned, and luscious peppers. They are subtly sweet and mild-hot, which is less than that of jalapeno.
Poblano is one of the most common chili peppers used in Mexican and in Southwestern U.S. cuisine. They can be prepared in a number of ways, commonly including, dried, breaded and fried, stuffed, or in sauces called moles.
In California, these chili peppers are often mistakenly addressed as chile pasilla, although pasillas are a distinct variety.
Poblano peppers are mild, broad, and conical-shaped papers and have very thick walls, which make them great for stuffing.
Except for stuffing, poblano papers are usually roasted and peeled before use.
Ancho chile peppers are deeply valued in traditional Mexican cuisine for adding color, flavoring, and mild spiciness.
When allowed to fully ripen and dry and shrivel, the poblanos are known as Mulato chile pepper. They add savory, sweet, and earthy flavors mixed with fruity undertones to the dishes.
Here are some serving tips:
Poblanos are very hot peppers. Do not overdo them when cooking because they compose very high amounts of the alkaloid compound capsaicin, which gives them a strong, pungent taste.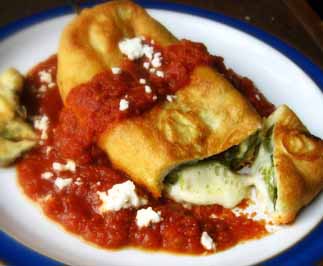 Chile-Rellenos.
Poblanos can be used in a variety of dishes but perhaps best known as the chili of choice for chiles Rellenos (stuffed poblanos).

Roasted poblanos in cream sauce (Rajas con Crema) is a popular Central and Southern Mexican recipe.

Anchos are commonly used in sauces called moles.
Safety profile
Poblano peppers are categorized as mild peppers (1,000 to 1,500 on the Scoville scale of heat levels), characterized by low levels of capsaicin, which gives them a mild pungent character. However, in some sensitive persons, even a tiny bit of capsaicin can elicit irritation burning sensation, and inflammation in the mouth, tongue, and throat when coming in contact with the mucosa of the oral cavity, throat, and stomach.

Eating cold yogurt dilutes capsaicin concentration and thus may help reduce burning pain.

Avoid touching eyes with ancho-pepper-contaminated fingers. If so, rinse your eyes thoroughly with cold water to reduce irritation.

Unlike in other chili types, poblanos being mild peppers, may less likely to aggravate conditions such as gastritis, stomach ulcer, and gastro-esophageal reflux (GER) conditions.
Also read ≺≺ Jalapeno peppers nutrition facts.
≺≺ Back to Spices from Poblano peppers. Visit here for an impressive list of healthy spices with complete illustrations of their nutrition facts and health benefits.
≺≺ Back to Home page.
Further reading:
USDA National Nutrient Database. (opens in new window)

Chile poblano. (Opens in new window)
---
---