Selection and storage
Cumin spice can be readily available around the year in the market. You can buy its seeds as well as ground powder in ready-made packs. Good-quality cumin should release pleasant yet peppery flavor when squeezed between index and thumb fingers. In the stores, buy whole seeds instead of its powder since oftentimes it may contain adulterated inferior quality spice mixtures.
The seeds can be stored in a cool, dry, dark place, in airtight containers for many months, and can be milled using a hand-mill as and when required. Ground and powdered cumin should be stored in the refrigerator in air-sealed containers and should be used as early as possible since it loses its flavor quickly.
Medicinal uses
Its seeds are employed to prepare a decoction to treat flatulence and indigestion in traditional medicines.

The seeds are being used in traditional medicines to stave off the common cold symptoms. (Medical disclaimer).
Culinary uses
Cumin is generally toasted/roasted gently before adding in a recipe. In order to keep its fragrance and flavor intact, it is generally milled just before preparing dishes.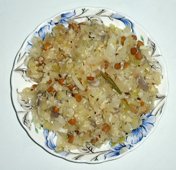 Cabbage stir-fry spiced with green chili, cumin seeds, and mustard seeds.
It is widely used as a spice and employed in cooking as a condiment and flavoring base.

Its seeds have been in use since ancient times in the preparation of many popular dishes in Mediterranean, Asian and Chinese cuisines. Along with other spicy items, it is being used as flavoring agent in chicken, fish, and meat dishes.

Some Indian vegetarian (jeera daal, aaloo-jeera), chicken curries and rice dishes (biryani, pulao) use cumin on a regualr basis. The spice is also a favorite in the Middle East, especially in meat and rice dishes.

The seeds are also been used in the preparation of soups, barbecue sauces, pickling and as one of the ingredients in a variety of curry powders.

In India and Pakistan, cumin seeds employed extensively in the food industry in the preparations of candies, condiments, appetizers and soft drinks (Jal-jeera, aam panna, etc.).

Black cumin (kala-jeera) seeds are popular spice ingredients in Persian and Mughlai cuisine.
Safety profile
Cumin seeds should be used in limited amounts as food. Too many spices in the food can cause gastrointestinal irritation, indigestion, and stomach ulcers.(Medical disclaimer).
≻≻-Back to Spices from Cumin. Visit here for an impressive list of healthy spices with complete illustrations of their nutrition facts and health benefits.
≻≻-Back to Home page.
Further reading:
USDA National Nutrient Database.(opens in new window)

Gernot-Katzer's spice pages. (Opens in new window).
---
---