Selection and storage
Fresh green and ripe jalapeno peppers can be readily available in US markets all around the season. During the winter months, they imported from Central American countries, especially from Mexico. You may find organic pods in the local farmer's markets.
Buy fresh, green, firm uniform-sized peppers featuring smooth, shiny skin and blunt ends. It is fine to have white markings on the shoulder ends for jalapenos. Avoid dry, wilt, and pods with cracks, cuts, and surface bruising.
At home, store them in a vegetable compartment inside the refrigerator set at high relative humidity. They keep well for up to a week. Pickled jalapenos can be stored for several months when stored in the fridge.
Preparation and serving methods
To prepare, wash jalapenos in cold water, and mop them dry using a soft absorbent towel. In general, wear gloves while handling hot variety chili peppers. Remove the stem. Chop or slice as you wish. Discard the seeds and central white placenta, if in case, to avoid excess hotness. Grilling under mild heat also reduces their hotness in addition to imparting a smoky flavor.
Jalapenos have successfully made an inroad into the US households since their usage found several interesting variations in cuisine like Tex-Mex cuisine (Texas-Mexican cuisine). Raw green, grilled, smoked, pickled jalapenos employed in a variety of Latin American, Spanish, Caribbean, and Asian cuisines.
Here are some serving tips: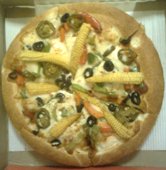 Pizza with jalapeno peppers, baby corn, and black olives topping.
They can be used in place of bell peppers in the preparation of ratatouille, a traditional Occitanian recipe.

Raw green jalapeno peppers added along with tomatoes and white onion to prepare fresh Pico de gallo.

They can be experimented with other fruits and vegetables to make salsa, guacamole, chutney, and salads.

Split halfway lengthwise, remove seeds and stuff with sausage, cheese, etc., to prepare stuffed-jalapenos (jalapeno poppers).

Mexican and Tex-Mex American cuisine chiefly pivot around smoke-dried jalapenos, known as chipotle.

Add jalapeno rings as pizza toppings.

Pickled jalapenos are eaten with sandwiches, tortilla, burgers, etc.

Jalapeno peppers are one of the common ingredients featuring in mouthwatering Tex-Mex cuisine, nachos, chili con quiso, fajita, etc.

They also add distinctive flavor and spiciness to vegetable stews, poultry, meat and seafood dishes.
Safety profile
As in other hot chili peppers, jalapenos also contain an active component in them, capsaicin, which gives a strong spicy, pungent character. Even a few bits may cause severe irritation and burning sensation in the mouth, tongue, and throat.
Capsaicin in jalapeno peppers initially elicits inflammation when it comes in contact with the mucosa of the oral cavity, throat, and stomach, and may soon elicit a severe burning sensation that is perceived as 'hot' through free nerve endings embedded in the mucosa. Eating cold yogurt dilutes capsaicin concentration, prevents its contact with stomach walls, and thus may help reduce burning pain.

Avoid touching eyes with chili-pepper contaminated fingers. If so, rinse eyes thoroughly with cold water to reduce irritation.

Like in chilies, jalapeno peppers may aggravate existing gastritis, stomach ulcer, and gastro-esophageal reflux (GER) conditions.

Prolong consumption of old, spoiled chilies would pose the risk of exposure to certain chemical compounds like aflatoxin (fungal mold), which have been known to cause stomach, liver, and colon cancers. (Medical disclaimer).
Also read ≻≻
≻≻ Poblano peppers nutrition facts.
≻≻ Bell pepper nutrition facts.
≻≻-Back to Spices from Jalapeno-peppers. Visit here for an impressive list of healthy spices with complete illustrations of their nutrition facts and health benefits.
≻≻-Back to Home page.
Further reading:
USDA National Nutrient Database. (opens in new window)

Agri Life Extension-Texas A&M System. (Opens in new window)
---
---