Selection and storage
Garlic bulbs harvested when its lower leaves turn yellow and showing signs of dryness. Later, the bulbs are air dried in the shade for few weeks before sold in the market.
In the store, several forms of garlic found; whole bulbs, dried, individual cloves, processed cloves, dry-powder, or paste.
Dry bare bulbs can be stored at room temperature placed in a cold dark environment away from humidity where they stay in good condition for several weeks. Garlic paste, however, should be stored in the refrigerator.
Medicinal uses
Garlic herb has been in use for a long time in many traditional Indian and Chinese medicines as a remedy for cold, cough, bronchitis, etc.

Garlic oil has been used as a local applicant for "ringworm" (fungal dermatitis) infection of the skin.

In the modern medicine, this exotic herb advocated as health benefiting food for its anti-microbial, anti-cancer, anti-diabetic, and immune boosting and cholesterol-lowering properties.
Culinary uses
Both cloves, as well as tender green tops of the garlic plant, are used in a variety of recipes, especially as a seasoning/garnishing.
In general, leaves are less pungent than the cloves and employed in recipes in a similar way like onion tops or scallions.
To prepare; its outer covers peeled away by hand, and cream-white color, smooth bulblet (clove) is either chopped using a paring knife or crushed using a garlic press just before adding into the recipes.
Here are some serving tips: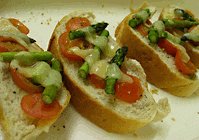 Bruschetta with asparagus, tomato, and cheese toppings.
Photo courtesy: rizkapb
Garlic is one of the common ingredients employed to enhance the flavor of vegetable, meat, and seafood preparations.

Its cloves are added to give a spicy, pungent flavor to the preparations like bread, toast, and Bruschetta (grilled bread slices rubbed with garlic paste with toppings such as olive oil, pepper, tomato, cheese, meat).

The cloves have also been used in the preparation of seasonal soups, chutney, and sauces.
Undesirable effects
The sulfide compounds in the garlic metabolized to allyl methyl sulfide, which is excreted through sweat and breathe producing unpleasant odor and breath (halitosis).
Safety profile
Its cloves contain allicin that acts as a blood thinner. It is, therefore, advised to avoid in patients on anticoagulants like warfarin as the resultant combination might cause excessive bleeding.

Garlic-in-oil, as in the pickle preparations, favors the growth of Clostridium botulism, which may result in a condition known as botulism (paralysis of the nervous system). It is, therefore, advised that garlic preparations should be preserved inside the refrigerator and should be used as quickly as possible. (Medical disclaimer).
<<-Back to Healthy herbs from Garlic. Visit here for an impressive list of all variety of herbs with complete illustrations of their nutrition facts and health benefits.
<<-Back to Home page.
Further Resources:
USDA National Nutrient Database. (opens in new window)

Stanford School of Medicine Cancer information Page- Nutrition to Reduce Cancer Risk (Link opens in new window).
---
---