Selection and storage
Fresh snow peas are at their best in spring; however, you can buy them year-round from the markets. Choose fresh, flexible, flat, tender light-green pods.
Avoid dry, wilting, and over-mature pods as they short of flavor. Similarly, avoid those with surface cuts, cracks, bruised, and discoloration.
Once at home, store them in a perforated plastic cover or paper envelope and place them inside the vegetable compartment of a refrigerator set at high relative humidity so that they remain tender and crispy for about 2-3 days.
Preparation and serving methods
To prepare, wash in cold water and pat dry. Remove green calyx attached at the stem end, and flower remnants at the tips.
Fresh pods are eaten as a whole. Use them early while the pods are fresh and crispy. Snow pea pods feature tough string which you may need to remove before eating them raw or in the dishes.
Here are some serving tips: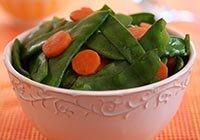 Teriyaki snow peas and carrots.
Do not overcook snow peas.

Snow peas employed in a similar way as snap peas. They commonly feature in the East Asian dishes in appetizer, soups, and stir-fries.

Chopped snow pea complement well in raw salads with sprouts, snap peas, shelled garden peas, carrot sticks, yellow beets, etc.

They add pleasant chewy texture in the stir-fried dishes. Sautee in oil/butter. Add garlic, and onion and mix in rice or noodle dishes.

Gently stir-fry separately before mixing them with other vegetable stir-fries like beans, broccoli, sweet pepper, etc.

Sautéed pea pods served with poultry, and seafood like salmon, tuna, etc.
Safety profile
Snow peas generally safe to eat in all individuals. They contain negligible amounts of 50 mg/100 of oxalic acid, a naturally-occurring substance found in some vegetables, which may crystallize as oxalate stones in the urinary tract in some people. On a comparison note: 100 g of spinach carries 970 mg. Adequate intake of water is, therefore, encouraged to maintain normal urine output to minimize the stone risk. (Medical disclaimer).
Also read ≻≻-
≺≺- Pea shoots nutrition facts and health benefits.
≺≺ Green peas nutrition facts and health benefits.
≺≺ Sugar snap peas nutrition facts and health benefits.
≺≺ Back to Vegetables from Snow Peas nutrotion. Visit here for an impressive list of vegetables with complete illustrations of their nutrition facts and health benefits.
≺≺ Back to Home page.

Further reading:
---
---