Selection and storage
Although sorrel can be available around the year, it is at its best during spring to early summer. Inside Europe, fresh sorrel is available from March until September. In the farmer-markets choose, firm, shiny green leaves with the thin petiole. Avoid yellow, wilted, large leaves with prominent veins.
Like any other greens, wash sorrel clumps thoroughly in clean running water and rinsed in saltwater for about 30 minutes in order to remove dirt and any insecticide residues.
Fresh herb should be used early to get maximum nutrition. To store, keep wrapped in a damp towel and place in the refrigerator for extended use (up to 3 days).
Preparation and serving methods
To prepare, wash fresh leaves in cold water. Gently pat them dry using a tissue or soft cloth. Trim away any thick petioles.
Sorrel can be eaten raw or cooked. Its acidic, lemony-tang greens are refreshing additions to salads and soups. Young tender leaves are preferred in salads and sandwiches. Large leaves can be cooked and prepared in the same way as spinach or cress.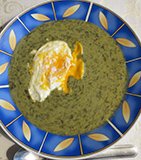 Garden sorrel soup with eggs. Photo courtesy-Sikeri (flickr.com)
Here are some serving tips:
Sorrel delicious in soups and sauces. Sorrel soup (green soup/borscht) is a classic dish in many East-European countries, particularly in Poland where it is a national soup dish. Traditionally, it served with quartered boiled egg and a heap of sour cream to neutralize acidic taste.

Sorrel sauce/paste/pesto is a traditional accompaniment to salmon, halibut, arctic char, and pike in classic french cuisine. It also blends well with veal, poultry, and lamb.

It can be mixed with other greens like spinach with pulses and vegetables.

Add fresh, chopped leaves to Italian favorites like pasta, risotto, etc.
Safety profile
Sorrel leaves and stems contain oxalic acid. Oxalic acid is an anti-nutrition compound found naturally in many vegetables and greens. High oxalate levels in the diet prevent absorption of minerals like calcium, magnesium, etc. Cooking in boiling water removes this compound to a great extent. Adding sour cream and milk chelates oxalic acid and prevents its absorption into the blood. People with known oxalate kidney stone disease may want to avoid vegetables high in oxalates. Adequate intake of water is therefore advised to maintain normal urine output. (Medical disclaimer).
≺≺ Back to Vegetables from Sorrel. Visit here for an impressive list of vegetables with complete illustrations of their nutrition facts and health benefits.
≺≺ Back to Home page.
Further reading:
---
---