Selection and storage
Fresh pods are eaten as a whole. They are sweeter and nutritious, so, use them as soon as their harvest/purchase.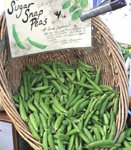 Sugar peas in a vegetable market.
Photo courtesy:csouza_79
In the markets, choose fresh, tender bright-green pods, which give an audible "snap" as in snap beans when broken. Buy full, uniformly sized pods featuring smooth skin. Avoid over-mature pods as they bit out of flavor. Similarly, avoid those with cuts, cracks, mold, and discoloration.
Once at home, store them in a plastic cover and place inside the vegetable compartment of a refrigerator set at high relative humidity so that they remain tender and crispy for about 2-3 days.
Preparation and serving methods
Fresh pods are eaten as a whole. Use them early while pods are fresh and crispy. The pods have a string at suture lines that needs to be removed before eating them raw or in cooking. To prepare, wash in cold water, and pat dry. Trim the stem end and remove the stringy fiber on either side of the pods.
Here are some serving tips:
Raw sugar snap peas are a great addition to vegetable salads along with carrots, celery stalks, peppers, beets, etc.

Prolonged cooking at high temperatures makes them lose flavor. Cook the whole pod just for a few minutes in boiling water, and serve with cream vinaigrette as an appetizer.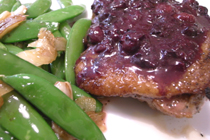 Duck roast with blueberry sauce, side of snap peas.
Photo courtesy: naotakem.
Gently, stir-fry separately before mixing them with other vegetable stir-fries like beans, potato, sweet pepper, etc.

Sautéed snap pea pods served with chicken, duck, and seafood like salmon, shrimp, etc.
Safety profile
Snap peas contain 60.3 mg/100 of oxalic acid; a naturally-occurring substance found in some vegetables, which, may crystallize as oxalate stones in the urinary tract in some people. Individuals with a known history of oxalate urinary tract stones advised against eating vegetables belong to Brassica and Fabaceae family. Adequate intake of water is, therefore, encouraged to maintain normal urine output to minimize the stone risk. (Medical disclaimer).
<<-Read Green peas nutrition facts and health benefits.
<<-Back to Vegetables from Snap Peas nutrotion. Visit here for an impressive list of vegetables with complete illustrations of their nutrition facts and health benefits.
<<-Back to Home page.

Further reading:
---
---