Selection and storage
Chives can be available year round. If you grow them as a potherb, the leaves can be harvested after plants are 6 inches tall. To harvest, just cut the leaves 2 inches above the ground.
In the markets, you may choose fresh as well as dried (dehydrated) leaves. Generally, fresh leaves tied in bunches and displayed for sale along with other leafy greens.
Buy uniform, firm, deep green fresh leaf-bunch. Choose young leaves for mild flavor. Larger ones tend to have sharp, strong onion-like pungent flavor.
You may store fresh leaves in a plastic bag and keep in the refrigerator. Dried leaves may be placed in an air-seal container and stored in a cool, dark place.
Preparation and serving methods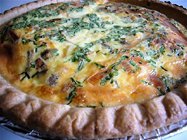 quiche with caramelized onions, shallots, porcini mushrooms, emmental cheese, and chives. Photo courtesy:dizznbonn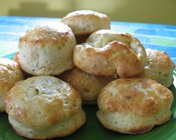 Chive biscuits.
Photo courtesy: qfamily
Chives are one of the most sought-after ingredients used for flavoring and garnishing recipes in many parts of the world, especially in the French and Mediterranean cuisines. They have subtle onion flavor, besides imparting bright green color to the recipes.
To prepare, wash chives in a bowl of cold water. Dry by gently mopping with a paper towel. Chop the leaves closely using paring knife in a way you desire. Add in the final moments to prevent loss of flavor (essential oils).
Here are some serving tips:
Closely chopped fresh leaves are added to sandwiches, soups, and cold sauce.

Garlic chives are popular in China, Taiwan, and Japan, where the fresh leaves used as flavorings in dumplings, soups, stews, and stir-fries.

In Europe, chives mainly used as garnishing, especially in baked, or mashed and cream cheese mixed potatoes. Vichyssoise, a classic cold soup, is served with freshly chopped chives.

The herb also employed in muffins, scones, quiche, pizza, omelets, biscuits, etc.
<<-Back to Herbs from Chives. Visit here for an impressive list of all variety of herbs with complete illustrations of their nutrition facts and health benefits.
<<-Back to Home page.
Further Resources:
Stanford School of Medicine Cancer information Page- Nutrition to Reduce Cancer Risk (Link opens in new window).
---
---