Selection and storage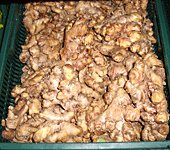 Fresh ginger roots in a market.
Ginger can be grown as a home garden plant or as potherb so that its fresh roots and leaves can be readily picked up for immediate use. In the store, however, choose organic, fresh root over the dried form since it is superior in quality and flavor.
Fresh roots should feature heavy in hand; stout, juicy, has grey-yellow peel and free from dark spots or mold. Dried, powdered, or ground root can also be found in these stores; however, they may contain significantly decreased levels of volatile oils like gingerols.
Fresh root can be kept in the refrigerator for up to a month or so. Powdered/ground ginger should be stored in the frige in airtight containers.
Culinary use
Wash fresh ginger root in cold running water or rinse for few minutes to remove any sand, soil or pesticide residues. Fresh root has a pungent flavor and spicy, peppery taste that may hit the senses in palate and nostrils. In order to keep its fragrance and flavors intact, it is generally added at the last moment in the cooking recipes since prolonged cooking results in evaporation of essential oils.
Fresh or dried ginger root along with garlic, cilantro, onion, tomato, cumin and mustard seeds made to a flavorful curry paste which then added to a variety of vegetable, meat, and curry/soup preparations.

The herb root is also used in the preparation of mango, lemon, and spondias (ambara in India) pickles.

Fresh root ginger can be used in the preparation of a variety of spicy snacks, candies, and ginger-bread in the food industry.

Ginger tea is a popular drink in many Asian countries.
Safety profile
Ginger stimulates many secretary glands in the body; it has "sialogogic" effect (increases salivary juice secretion in the mouth) on salivary glands; increase bile secretion and its release. Therefore, the root may be contraindicated in patients with a history of gallstones.
Ginger root is also known to potentiate the toxicity of anti-coagulant drug warfarin, resulting in severe bleeding episodes. (Medical disclaimer).
<<-Back to Healthy herbs from Ginger root. Visit here for an impressive list of all variety of herbs with complete illustrations of their nutrition facts and health benefits.
<<-Back to Home page.
Further Resources:
USDA National Nutrient Database. (Links open in new window)

Stanford School of Medicine Cancer information Page- Nutrition to Reduce Cancer Risk.
---
---