Selection and storage
Black Peppercorns can be available year-round in the markets. In the store, buy whole peppercorns instead of pepper powder since, oftentimes, it may contain adulterated spices. The peppercorns should be wholesome, heavy, round, and compact.
Peppercorns can be stored at room temperature for many years and can be milled using a hand mill as and when required. It can be kept inside the refrigerator for up to a month or so. Powdered pepper should be stored inside the refrigerator in airtight containers.
Medicinal uses
Peppers have been used therapeutically in dentistry as an antiseptic remedy for tooth decay and gum swellings.

Peppercorns are also being employed in traditional medicines in treating flatulence and indigestion, however, there is little or no data to support these claims in modern medicine.
Culinary uses
Black pepper is one of the most versatile spices used in several kinds of savory cooking. In order to keep their fragrance and flavor intact, they generally milled just before preparing dishes and added at the last minutes in the recipes (since prolonged cooking results in evaporation of essential oils).
Here are some preparation tips: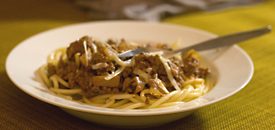 Spaghetti Bolognese. Minced meat with a dash of ground black peppers in a delicious pasta recipe!
Photo courtesy: Lachlan
Black peppercorns along with other spices and seasonings used to marinate chicken, fish, and meat.

The spice, popular as "kali mirch" in the Indian subcontinent, used liberally in Indian vegetarian and chicken curries and in the Middle-East, in meat and rice dishes.

They can be employed in the preparation of soups, barbecue sauces, pickling and as a main ingredient in variety of curry powders (Indian garam masala powder).

Although preferred in savoury foods, this spice can also feature, albeit, in tiny quantities in sweet preparations like fruitcakes, breads, pies to add a peppery-spice note.

In India and Pakistan, black peppercorn powder mixed with salt, and the mixture is a common item found on the serving table in restaurants. The mixture sprinkled over vegetable/fruit salads, chats, lemonades, in soups, etc. Lassi (churned yogurt) is often flavored with this spice-salt mixture in the Punjab province.

Cubeb peppers mainly feature in Indonesian curries.
Safety profile
Consumption of dishes prepared with excessive amounts of black pepper can cause gastrointestinal irritation, and bleeding from the ulcer sites. Therefore, recipes prepared with pepper should be avoided in individuals with acid-peptic disease, stomach ulcers, ulcerative colitis, and diverticulitis conditions. (Medical disclaimer).
≻≻-Back to Spices from Black pepper. Visit here for an impressive list of healthy spices with complete illustrations of their nutrition facts and health benefits.
≻≻-Back to Home page.
Further reading:
---
---