Selection and storage
Beginning from September till November, fresh green flageolets are readily available in most farmers' markets and groceries in France and Spain. In the US and Canada, semi-dried, dried as well as canned flageolet beans in water are available online and in the supermarkets.
Choose fresh, pale-green, smooth beans in packets from authentic sources for ready-to-cook purposes. Semi-dried beans also work well in recipes but need a little longer cooking.
Avoid beans with broken, surface crack, or cuts as they do not stand-well once boiled.
Store them in a cool, dark place, in an air-seal plastic/metallic bin away from high temperatures and humidity.
Preparation and serving methods
The beans are one of the most sought-after in North America and Europe for their wholesome nutritional properties. Boiled Flageolet has a fine, buttery texture and a pleasant beany taste; reminiscent of green soybean (edamame) or lima bean.
Flageolet bean is characterized by having a pale-green color with thin skin and tender pulp. Once cooked, it has a pleasant texture and unique beany flavor.
Dry beans often require soaking in cold water for 3-5 hours. They cook easily than any other haricot varieties. Soaking and boiling also removes anti-nutritional compounds and reduces flatulence.
Here are some serving tips: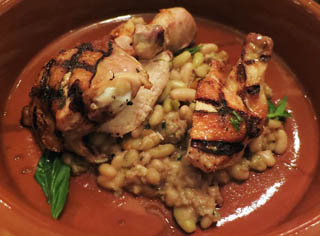 Yogurt Marinated Kilgus Farm Poussin-Flageolet Beans, Tuscan Soffrito, Basil. Photo courtesy: Lou Stejskal
Flageolet beans go well in traditional dishes like cassoulet with lamb (leg), ham, and other fatty meats or meats with a strong taste (bacon).

Boiled beans are then mashed to employ in dips; or pureed and seasoned with garlic and thyme, as an accompaniment for fish and prawns.

Flageolet beans used in soups, as pot beans, and stews mixed with other complementing herbs, spices and vegetables.

Just like other white haricot, cooked flageolets can also be used as a base for salads, with various finely chopped vegetables, such as celery, cucumbers, onions, and green, red, or yellow bell peppers.
Safety profile
Consumption of raw, and soaked flageolet beans is not advisable and harmful for health. It can cause phyto-hemagglutinin (lectin) toxin poisoning, a condition that may cause clumping of red blood cells in humans. Other symptoms include nausea, vomiting, and diarrhea. Cooking in pressure cooker eliminates the toxins and make them safe. (Medical disclaimer).
Also read ≻≻-
≻≻-Back to Legumes from Flageolet beans nutrition. Visit here for an impressive list of vegetables with complete illustrations of their nutrition facts and health benefits.
≻≻-Back to Home page.
Further Resources:
---
---