Selection and storage
In the markets, choose dried beans. Although their color pattern would not come in the way of quality, adzuki (red) beans are often preferred in cooking. In the US markets, dried beans in bulk bins, and canned, sprouted adzuki are available in the supermarkets all around the year.
Young, green adzuki pods sold in the Chinese and Korean markets are used much like green beans in cooking. While buying tender adzuki from the local vegetable markets, look for green, uniformly developed, immature, firm pods. Avoid over-mature pods as the beans prime their age and convert their sugars into starch. Also avoid sunken, shriveled pods.
At home, store dry beans in an air-seal plastic/metallic bin in a cool, dry place away from high temperatures and high humidity.
Young tender pods, however, treated like edamame or green beans for storage. Store them in a perforated plastic bag and place them in the refrigerator set at high relative humidity. They stay well for up to 4-6 days. To enjoy, however, use them soon after the purchase.
Preparation and serving methods
Dry adzuki beans are most sought after in the Japan cuisine only after soybeans. Boiled beans exhibit a rich red color and delicately nutty, sweet flavor.
Cooking often requires soaking in cold water for 2-3 hours. The beans can also be boiled and simmer for 1.5 to 2 hours. Or Pressure cooked with soaking for 20 minutes and without soaking for 20-30 minutes. Soaking and boiling also help eliminate anti-nutritional compounds in the red beans.
To prepare, wash fresh green azuki pods in cold running water. To shell, snap the calyx end towards the midrib and pull all along the suture line as you do for other bean pods. Split open and remove beans.
Here are some serving tips: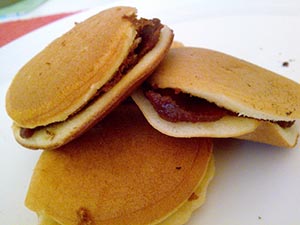 Dorayaki-Japanese styled pancakes with anko (red bean) paste filling. Photo credit: tisay
Immature adzuki bean pods are used in the same way as green beans and generally treated like vegetables.

Dry beans employed in a wide range of dishes boiled, sprouted, popped, mashed (paste).

The beans are added in soups, stews mixed with other complementing vegetables like kale, carrots, mushrooms, etc.

Sekihan (赤飯) is the traditional Japanese sticky rice and adzuki beans dish prepared for special occasions such as shichi-go-san.

Boiled adzuki beans prepared into different styles of paste (an or anko) for use in both savory and sweet dishes. Koshian is the most common type in which boiled beans are sieved to remove bean skins. Tsubushian is where the beans are mashed after boiling and bean skins are a part of the paste.

Known as red choti dal in India, the beans are used in various kinds of savory stews to be eaten with unleavened flatbread (chapati), and rice.
Safety profile
Adzuki beans indeed are one of the low oxalate foods among the beans. Just 4.7 mg per 100 g when compared to 7.5 mg of broad beans, and 45.6 mg for kidney beans. Oftentimes, sprouted adzuki may cause cramp pain in the stomach, diarrhea, and vomiting. (Medical disclaimer)
Also read ≻≻
≺≺ Lima beans nutrition facts and health benefits.
≺≺ fava beans nutrition facts and health benefits.
≺≺ Back to Legumes from Adzuki Beans. Visit here for an impressive list of vegetables with complete illustrations of their nutrition facts and health benefits.
≺≺ -Back to Home page.
Further Resources:
Stanford School of Medicine Cancer information Page- Nutrition to Reduce Cancer Risk.
---
---