Selection and storage
Fresh edamame beans on the plant (put for sale) can be found in the Japanese and other East-Asian markets. Inside the US, however, frozen pods in vacuum packs, or frozen shelled edamame beans can be available in the supermarkets. In Japan, entire soy plant with fresh pods cut at the soil surface and sold in bundles.
Green soybeans have narrow harvesting period. Young, tender pods brimming with seeds, and just short of their peak maturity consider as the best quality. If left unharnessed at this stage, they continue to grow into dry soy seeds.
While buying fresh edamame bean pods from the local vegetable markets, look for green, just mature, plump, and firm pods. You may also purchase fresh or frozen beans from the grocery. Avoid sunken, yellow, shriveled pods as the beans convert their sugars into starch. As in other beans, fresh tender beans feature smooth, pale green color, but their color changes to white or cream-yellow once they dried.
Once picked up, green soybeans should be used quickly since their sugar converts to starch and seeds lose their biting, creamy texture and nutty flavor.
Once at home, if not used right away, keep them inside refrigerator where the pods stay fresh for 2-3 days.
Preparation and serving methods
In Japan, fresh edamame beans in pods boiled in light salted water served in a bowl as a snack. To eat, peel the string, hold the pod in both hands, and then using thumb and index fingers, gently squeeze beans into the mouth. Then discard pod peel. As in lima beans, edamame also becomes flavorful once cooked.
Here are some serving tips: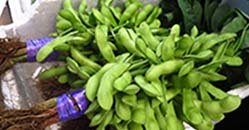 Edamame bean pods on a soy plant.
Photo courtesy: acme.
Boiled edamame beans can be a great addition to green salads. Fresh, beans treated like other green beans like peas, lima, etc, as bean vegetables.

In Japan, Izakaya restaurants serve boiled edamame pods as an appetizer with drinks.

Add edamame beans in stir-fries.
Safety profile
Edamame should always be cooked before eating. As in oter green beans like lima and hyacinth, raw edamame also carries many anti-nutritional substances, phytoestrogens, and toxins which may affect the health adversely. Consumption of raw edamame beans may cause stomach upset, diarrhea and vomiting. Boiling in salt water for at least 20 minutes eliminates most of these toxins and make the beans flavorful. Additionally, avoid them if allergic to any soy products. (Medical disclaimer)
<<-Read Sugar snap peas nutrition facts and health benefits.
<<-Read Fava beans nutrition facts and health benefits.
<<-Read Lima beans nutrition facts and health benefits.
<<-Back to Vegetable Nutrition from Edamame. Visit here for an impressive list of vegetables with complete illustrations of their nutrition facts and health benefits.
<<-Back to Home page.
Further Resources:
---
---