Custom Search
Mustard greens nutrition facts
Peppery, crispy mustard greens, also known as leaf mustards, are indeed one of the most nutritious green leafy vegetables available around in the winter months. Its lovely top greens, indeed, possess more vitamin-A, K, carotenes, and flavonoid antioxidants than some of the typical fruits and vegetables.
The crispy, leafy tops gathered from the mustard plant while it is small, tender and short of reaching flowering stage. Leaf-mustards belongs to the Brassica family, which also includes cabbage, broccoli, brussels sprouts, etc. Scientific name: Brassica juncea.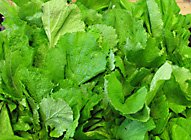 Mustard greens. Note for the bright green broad leaves with serrated margins. (Photo: nataliemaynor)
The mustard plant is native to sub-Himalayan plains of the Indian sub-continent, commonly cultivated for its leaves and oil seeds since ancient times. Mustards are cool season winter crop. Their tender, crispy leaves are more flavorful which last from November until March.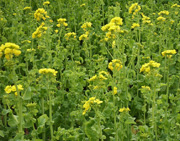 Mustard plant in a farm field. Note for bright yellow colored flowers.
(Photo: itchys )
Several cultivars of leaf mustards exist. In general, its young tender green leaves, which used as green-leafy vegetables, are gathered when the plant reaches about 2 feet tall. If left alone, it continues to grow, reaches about 4-5 feet in height and bears golden yellow flowers which subsequently develop into mustard seed pods.
Fresh mustard leaves feature deep green, broad leaves with a flat surface and may have either toothed, frilly or lacy edges depending on the cultivar type. Its light-green stem branches out extensively into many laterals.
Mizuna or japanese mustard (Brassica rapa subsp. nipposinica) is a close cultivar type in Brassica rapa group of leafy greens.
Mustard seeds used as condiment spice are being used extensively in cooking as well as in oil production in many parts of South-Asian regions.
Health benefits of mustard greens
Selection and storage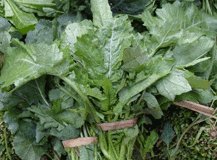 Fresh mustard greens bushel.
Mustards are winter crops. In the markets, look for fresh mustard greens featuring crispy, dark-green leaves and should show vitality. Avoid sunken, spotted, or yellow, discolored leaves.
Its leaves wilt soon if kept at room temperature; therefore, should be stored in the refrigerator immediately. Although they can be kept for up to three days in cold storage, fresh mustard greens should be used as early as possible to get maximum nutrients.
Preparation and serving methods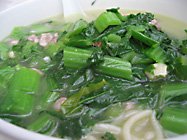 Mustard green soup, a Chinese delicacy.
(Photo: by taste-buzz)
Fresh mustard leaves, flower buds, and stems can be used in a variety of cuisine all over Asia and in Eastern Europe.
Before cooking, wash its leaves thoroughly in clean running water to remove sand and soil and then rinse in saline water for about 30 minutes in order to remove surface dust, any insecticide residues. Trim away thick petioles and stems.
Here are some serving tips:
Safety profile
(Medical Disclaimer: The information and reference guides on this website are intended solely for the general information for the reader. It is not to be used to diagnose health problems or for treatment purposes. It is not a substitute for medical care provided by a licensed and qualified health professional. Please consult your health care provider for any advice on medications.)
<<-Back to Vegetable from Mustard Greens. Please visit here for an impressive list of vegetables with complete illustrations of their nutrition facts and health benefits.
<<-Back to Home page.
Visit here for very informative pages on:-
Further reading:
1. Refer Stanford School of Medicine Cancer information Page- Nutrition to Reduce Cancer Risk (Link opens in new window).
2. USDA National Nutrient Database.
---
---