Selection and storage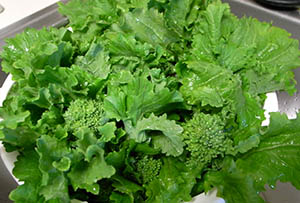 Fresh broccoli rabe greens. Photo courtesy: cbertel
In the United States, broccoli rabe normally arrives in the markets twice a year, in the spring and during the fall. If you happened to be placed closer to its cultivation farms, buy them from local markets for extra freshness and nutrition advantages.
In the farmer markets, fresh broccoli rabe is normally bundled and put for sale in the vegetable section. Buy fresh, crispy bright green leaves featuring firm stems and compact broccoli-like cluster head florets. Avoid wilted, yellow leaf and stems bolted flowerheads.
Likewise in other greens, use broccoli rabe early in cooking. If at all to store, keep unwashed greens inside a plastic bag, and place in the vegetable compartment of a refrigerator for 1-2 days.
Preparation and serving methods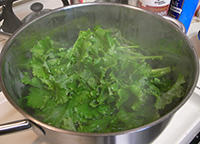 Blanching Rapini greens
(Photo by : Naotake Murayama)
Fall and spring are broccoli rabe seasons in the US. To prepare, trim its stem side tough end. Rinse in cold water and swish to remove any dirt. Pat dry using a paper towel or soft cloth. Using a paring knife, cut the greens into the desired length before cooking.
The bitter taste of broccoli rabe somewhat mellowed after blanching for few minutes in boiling water. Transfer blanched greens in ice-cold water to stop its further cooking and turning it into mushy.
Broccoli rabe complements well with many ingredients ranging from vegetables, pasta, cheese, and mushroom. Prepared rabe can be enjoyed in stir-fry, sautéed, grilled, etc.
Here are some serving tips:
Broccoletti di rapa as the greens called inside Italy; rapini greens are one of the most sought after ingredients in the Southern Italian cuisine. Orecchiette alle cime di rapa is one of the Apulian pasta dishes.

Chopped rapini sautéed in olive oil with garlic is a traditional side dish in Europe.

Finely chopped rapini can be added in the quiche.

It mixes well with other greens like turnip greens, mustard greens, swiss chard, collards, etc.
Safety profile
Broccoli raab greens contain oxalic acid, a naturally-occurring substance found in some cruciferous vegetables, which may crystallize as oxalate stones in the urinary tract in some people. It is, therefore, individuals with known oxalate urinary stone disease advised to avoid eating vegetables belonging to Brassica/cruciferous family.

High phytate and dietary fiber content in the broccoli raab greens may interfere with the bioavailability of iron, calcium, and magnesium.

Because of its high vitamin-K content, patients taking anti-coagulants such as warfarin are encouraged to avoid this food since it increases the vitamin K concentration in the blood, which is what the drugs are often attempting to lower. It might advertently raise the effective dose of the drug.

Being a brassica family of greens rabe may also contain goitrogens. Excessive amounts of goitrogens in the food may interfere with thyroid hormone production and can precipitate thyroxin hormone deficiency in individuals with thyroid dysfunction. (Medical Disclaimer.
<<-Back to Vegetables from Broccoli rabe. Visit here for an impressive list of vegetables with complete illustrations of their nutrition facts and health benefits.
Read on-Broccoli nutrition facts.
<<-Back to Home page.

Further resources:
Refer Stanford School of Medicine Cancer information Page- Nutrition to Reduce Cancer Risk (Link opens in new window).

Cornell University-Home Gradening.
---
---