Custom Search
Epazote nutrition facts
Epazote is a traditional Central American herb employed by native Mexicans since antiquity. Its strong, musky flavor gives a unique taste to Mexican and other Latin American cuisines. While its young shoots and tender leaves used like leafy greens in soups; its mature, pungent leaves added in small quantities as digestive and carminatives in bean, fish, and corn dishes.
Binomially, the herb belongs to the large Amaranthaceae family of herbs and vegetables, including amaranth, spinach, quinoa, beets, etc. Scientific name: Chenopodium ambrosioides. Some of the common names include wormseed, Mexican tea, pazote, etc.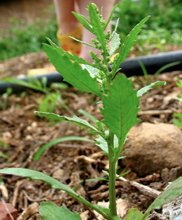 Epazote (Chenopodium ambrosioides). Note for serrated margin, pointed green leaves.
Photo courtesy: jonny.hunter
Epazote is one of efficiently growing annual herb. It prefers well-draining, sandy soil and full sunlight to flourish. The herb grows generously in the fields, on the roadsides as a weedy invasive plant. It reaches about 60 to 100 cm in height featuring small pointed leaves with serrated margins. Tiny yellow-green flowers appear in clusters as in amaranth which develop subsequently into numerous small black seeds.
Health benefits of Epazote
Epazote has largely been viewed as a medicinal herb rather than a culinary plant. In general, its leaves used in the cooking to counter indigestion and flatulence effects of beans, high-fiber and protein food. Nonetheless, the herb has its own intrinsic phytonutrients which when consumed optimally would contribute towards overall wellness.
Selection and storage
Epazote is available year-round in the stores specializing Latin American herbs. One may also find dried leaves in the spice stores.
While buying the herb, look for fresh, small, young tender leaves as mature leaves can be pungent and strong scented. Avoid large, flower stems with yellow or wilted leaves. Once at home, store unwashed in the refrigerator as other greens, wrapped in a dampen towel.
Preparation and serving methods:
Epazote has a strong pungent flavor with a hint of petroleum and mint smell dominating. Its leaves, fresh or dried, and young shoots are being used as a seasoning in the dishes in Mexican, Chilean and other South American regions.
To prepare, wash the leaves in cold water as in other greens and herbs. Few leaves or 1-2 sprigs are just enough to flavor the whole food. It is mainly added in the traditional black bean recipes to improve digestion.
Here are some cooking tips: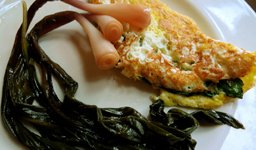 Epazote omelet with pickled ramp.
Photo courtesy: yuco chan
Medicinal uses of epazote herb
Safety profile
Epazote (wormseed) should be used in small quantities. Its seed oil rather contains a large concentration of ascaridole and other monoterpenes. When taken internally, these chemicals in the oil may cause extensive damage to liver, kidney, cause rhythm disturbances in the heart and nervous systems. For the same reason, wormseed oil is banned by IFRA (International Fragrance Association) for both external and internal use of its products.
The herb parts should not be consumed by the nursing and pregnant mothers for its possible toxic effects. (Medical disclaimer).
<<-Back to Herbs from Epazote. Please visit here for an impressive list of healthy herbs with complete illustrations of their nutrition facts, medicinal properties, and health benefits.
<<-Back to Home page.
Visit here for very informative pages on:-
Further reading:
1. Tropical plant database- Chenopodium ambrosioides.
2. http://cals.arizona.edu/fps/sites/cals.arizona.edu.fps/files/cotw/Epazote.pdf
3. USDA National Nutrient database.
---
---