Selection and storage
Central and Yucatán peninsula in Mexico and Guatemala are the main husk-tomato growing regions in Mesoamerica. It is grown in small parts of California, Louisiana, and other Southern states in the US. Fresh fruits are generally imported from Central American countries.
Fresh tomatillos can be available around the year in the market, especially in the stores selling Latin-American vegetables. While buying, look for fresh, firm, unripe berries featuring bright green color, as they have a piquantly tart flavor and, for the same reason, are preferred in the recipes. Avoid sticky and yellow, or purple ones, as they appear over-mature, soft, and out of flavor.
To store, place them in the fridge, inside the vegetable compartment, set at the right temperature and humidity where they stay fresh for up to two weeks. To preserve longer, remove the husk and store the green fruits inside the refrigerator placed in a zip pouch.
Preparation and serving methods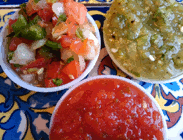 Tomatillo salsa and sauces.
Photo courtesy: Adam_d
To prepare, peel the husk by hand and wash them thoroughly in cold water to remove sticky residue from the surface. Fresh tomatillos can be used raw and cooked in recipes.
Here are some serving tips:
Tomatillos are the main ingredients used in a variety of Mexican mole (sauce) preparations.

The berries are commonly employed in Enchilada Verde (green) sauce.

To prepare salsa verde, cooked and pureed green tomato is blended with roasted jalapeno, onions, garlic, herbs like cilantro and served over tortilla, seafood, fritters, etc.
Safety profile
As a member of nightshade family plants, tomatillos may often cause allergic reactions in some sensitized persons with symptoms of skin and eye itching, runny nose, gastrointestinal disturbances like pain abdomen, vomiting, and diarrhea.
Cross-reactions with other members like eggplant, tomato, etc., may also occur. It is, therefore, advised to avoid them in food in cases of known allergic conditions. (Medical disclaimer).
≺≺ Back to Vegetables from Tomatillo. Visit here for an impressive list of vegetables with complete illustrations of their nutrition facts and health benefits.
≺≺ Back to Home page.
Further reading:
---
---