Selection and storage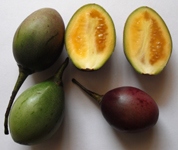 Tamarillo fruit sections.
Tamarillo season begins in New Zealand from May until October. Choose well-developed, bright, uniform colored, ripe and ready to eat fruits. Tamarillos are available in several attractive colors of orange, golden yellow, deep red, maroon, etc. Look for the healthy stalk. Avoid small, shriveled, damaged and bruised fruits.
At home, ripe fruits may stay well for up to 5-7 days and inside the refrigerator for up to 10 days.
Preparation and serving methods
Raw, ripe fruits can be eaten with the peel. However, its skin is bitter in taste (largely because of cyanidin anthocyanin pigments), and many may want to avoid eating it.
At home, wash them in cold water and mop dry using a soft cloth. Remove the stalk. In general, the fruit is cut in halfway, and its sweet, juicy flesh scooped out using a teaspoon.
Its skin may be peeled and discarded in the similar fashion as in tomatoes. Rinse the fruit in hot water for 2-3 minutes and cool it immediately by immersing in cold water. Then using a knife, make a small nick on the surface and gently peel using fingers.
Here are some serving tips:
Tamarillo slices used in decorating fruit/green salads.

Its slices served as toppings on cakes, ice creams, sandwiches, etc.

Its juicy pulp can be pureed and blended to prepare smoothies, sauce, salsa, jams, jellies, etc.
Safety profile
Tamarillo fruit intolerance is a rare event and may occur because of cross-allergic situations to other Solanaceae commoners like eggplant, tomato, tomatillo, etc. (Medical disclaimer).
<<-Back to Fruits from Tamarillo. Visit here for an impressive list of all variety of fruits with complete illustrations of their nutrition facts and health benefits.
<<-Back to Home page.
Further reading and Resources:
New Zealand Tamarillos- Nutritional composition.
---
---