Selection and storage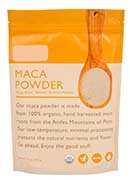 Maca powder.
Traditionally, maca roots harvested by hand once its top greens turn yellow. Fresh roots usually available only from the farmers near its cultivation.
In the US markets, dried tubers, powder, and chunks in vacuum packs can be readily available from specialty food stores.
Look for the uniform sized, well-dried roots in authentic packages. Fresh roots keep well for several days in the cold storage. Dried maca root and powder can be stored for several months.
Culinary use
Fresh roots eaten baked like other taproots like turnips. Dried roots soaked for few hours in lukewarm water to revive their texture.
Today, however, much of the maca crop is utilized by the pharmaceutical industries to process and market as food-supplement instead of vegetable.
Traditionally, native Incas baked fresh roots in the earthen-owen (pachamanca), along with potato, corn, sweet potato, meat, guinea pig and herbs.

Novelty maca products drinks, energy bars, or as additive in smoothie or chocolate drinks.
Safety profile
Maca root, being member of broccoli family vegetables, does not cause much toxic problems if consumed in moderate quantities. (Medical disclaimer).
Conumption of maca root has not been established to treat thyroid dysfunctions. On the contrary, being a brassica family vegetable, maca contains goitrogens, and may in fact, may worsen hypothyroidism and should be consulted with physicians before using maca supplements.
Truth facts about maca root
Maca root is a kind of underground, taproot (hypocotyl) of plant L. meyenii native to highland mountain plateus of peru.

In a way similar to other taproots like turnips, parsnips, etc, maca root also possesses unique caloric and nutritional profile. Its fresh roots carry little more calorie values than turnips and potatoes. Once dried, its calorific value per 100 g is same as other cereal grains like wheat, and rice.

Some pharmaceutical trial studies suggest that the consumption of maca root products would help improve sexual vigor in men and women. However, further university level studies required to establish this claim of maca root.

Ancient indigenous and Inca people used it as chief food source and dry as well as fresh roots often barterd with low-lying land people in exchange of corn, potato, pulses and meat. So, it is treated more like a food item by them than as a "novel fitness root".

Although, maca carries number of anti-oxidant compounds, its anti-oxidant value is no way closer to other anti-oxidant superfoods such as cinnamon, some berries, etc as claimed by somey some companies, websites, articles, etc. The USDA, on its part, has so far not even bothered to find out its nutritional profile and ORAC value.
You may also like to read:
<<-Ginseng nutrition facts and health benefits.
<<-Back to Herbs from Maca root. Visit here for an impressive list of all variety of herbs with complete illustrations of their nutrition facts and health benefits.
<<-Back to Home page.
Further Resources:
Of maca and men: Peru (Link opens in new window)
---
---