Selection and storage
| | |
| --- | --- |
| | |
| Babycorns cobs. | Sweetcorn cobs in a market. |
Sweet corn is a summer season crop in the temperate regions. However, it can be cultivated around the seasons in the tropical belt. In the US markets, fresh corn ears appear on the shelves by May and last until September. Fresh cobs in the form of vacuum packs or processed canned kernels may also be sold frozen in the markets all around the year. The cob is generally available in yellow, white, or bicolor seed types. One may also buy them from neighborhood retailers, or for even more enthusiasts, may collect from the "pick-your-own" farms from the local farmers.
Fresh baby corns usually come in small packages wrapped in plastic paper. Try to buy medium-sized, firm, and fresh arrivals.
While buying, look for well-formed ears with light green color tight husks and clean, golden-brown silks. Gently pull down the husk from the tip-end to check for color as well as the stage of kernels underneath. You may buy fresh-husked cobs wrapped in plastic paper. Look for the harvest date; buy only if they are fresh as the kernels soon turn sugars to starch and lose their sweet, juicy flavor. Avoid if the husk is dry as it indicates the old stock and hence out of flavor. Do not buy overly matured cob either.
Once at home, use them as early as possible. If you have to store them, keep them in the refrigerator, preferably along with its husk, to maintain flavor, taste, and moisture. They stay well for up to two to three days if stored at 90 percent humidity 32 °F.
Preparation and serving methods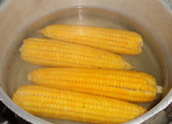 Boiled corn cobs.
Organic produce would not necessitate washing. Just remove the husk and silk, and use it as a vegetable. However, you may wash the husked cob in cold running water or dip them in saltwater for about 15-20 minutes. Mop them dry using a paper towel.
Sweet corn kernels can be used much like a vegetable rather than as a cereal grain. In general, its whole or section of the cob may be served as a main dish. If you desire so to use only kernels in the cooking, then slice through the kernel base all along the central woody core to separate seeds from the cob using a paring knife.
Here are some serving tips: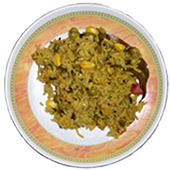 Fried rice. Note for bay leaf, sweet corn kernels, french beans and mustard seeds.
Farm fresh, milky-stage sweet corn can be enjoyed as it is without boiled or steamed.

The whole corncob may be grilled and served with salt, lemon, and pepper seasoning.

It can be steamed, or boiled in salt water and served with butter or oil.

Boiled kernels are an excellent accompaniment to salads, pizza, pasta, risotto, stews, omelets, fried rice, rice pilaf, etc.

Sweet corn soup and chowder are favorite starters in almost all corners of the world.

Do not discard the water after boiling the cob. It can be used along with onion, carrots, parsnip, celery-stalks, etc., in the preparation of delicious vegetable stock.
Safety profile
Allergic reactions to sweet corns are rare. It is free of gluten and can be a safe food alternative in celiac disease patients. Persons with high blood sugar levels, however, should limit sweet corn consumption in their diet since it carries lots of simple sugars. (Medical disclaimer).
≺≺ Back to Vegetables from Sweet corn. Visit here for an impressive list of vegetables with complete illustrations of their nutrition facts and health benefits.
≺≺ Back to Home page.
Further reading:
Growing sweet corn-Purdue University Cooperative Extension Service-pdf.
---
---