Selection and storage
Mature coconuts can be readily available round the year in Asian stores in the US. You may find husked, processed kernel in air-sealed packs, wholesome totally dried (copra) in vacuum packs, coconut milk, cream, dry-powder (desiccated), etc., in these stores. Fresh tender nuts for a refreshing ready-to-drink, in tins/cans, can also be found here.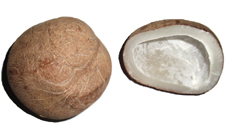 Dried coconut meat or copra.
Coconut is a very stable fruit. Dry nuts with husks can be stored for months in cool, dry, and humid-free place. However, once cut open, fresh mature meat may deteriorate rather quickly if kept open for few hours at room temperature. Its water and meat contain simple sugars which attract attacking fungus as well as bacteria. Cut-opened raw kernel and grated coconut should be placed inside the refrigerator to prevent decaying.
Coconut milk is available in tins/cans or as a milk-powder in the markets. If using as powder, reconstitute it with cold water following steps/instructions explained on the packet.
Preparation and serving tips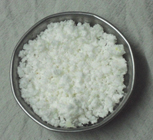 Grated coconut meat.
There are several methods in practice to cut-open the whole coconut fruit. At home, an able person with enough skills in plying its tough outer husk (exocarp and mesocarp) should only do this task. The nuts are usually husked with the help of large machines in the industries. At the household, it is plied using a sharp sickle bit by bit to expose the inner spherical hard shell (endocarp). In India and other Asian countries, a husked nut is broken by hitting it against a hard surface with force. Its water is either used in the cooking or simply discarded. Finally, the white meat is separated from its attachment to the shell (endocarp) using a sharp spatula or knife. The meat is cut into chunks, slices, or grated using a knife, or grater for use in cooking.
Here are some serving tips:
Its slices or chunks are eaten as a snack. The kernel can be eaten in many ways. In one of the unique recipes to South India where small slices or grated coconut is mixed with jackfruit slices, honey, sugar, and banana and served as a dessert.

Finely grated and dried (desiccated) coconut powder is used in the preparation of a variety of savory dishes in India and other Asian regions. Coconut chutney is a thick paste prepared by grinding together grated coconut, roasted peanuts, green or red chili peppers, mustard seeds, curry leaves, garlic, and salt and used as a dip with rice cake (idli), poori (puffed fried thin bread), etc.

Dried (desiccated) coconut powder is found a special place in mouth-watering sweet dishes like burfi, granola bars, cake, cookies, chocolate, pies, custard (kheer), etc., in almost all parts of South Asia, and East Asian regions.

Fresh tender coconut water can be enjoyed as a special refreshing drink by adding lemon, mint leaves, orange zest, etc.

Coconut milk is added to a variety of food preparations. In many parts of Indonesia, Philippines, India (Kerala,), Malaysia and Sri Lanka vegetables, fish, and seafood curries cooked in this milk. In Indonesia, South India, and Malaysia, rice is steamed in milk with herbs and spices (nasi uduk) and served with chicken or meat curries.
Safety profile
Coconut is a very healthy ingredient that can be used safely as food. There are no reported allergic reactions of any sort notified so far following its consumption. Its sweet delicious kernel is not only cherished in healthy but considered safe and nutritious in pregnancy, infants as well as in sickness conditions. (Medical disclaimer).
Also read ≻≻-
≻≻-Coconut water nutrition facts.
≻≻-Coconut milk nutrition facts.
≻≻-Coconut oil nutrition facts.
≻≻-Back to Nuts and seeds from Coconut. Visit here for an impressive list of nuts and seeds with complete illustrations of their nutrition facts and health benefits.
≻≻-Back to Home page.
Further Resources:
Coconut Research center.
---
---