Selection and storage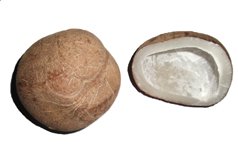 Dry coconut or copra (cut sections).
Renewed interest among consumers in the applications of coconut oil has prompted the import of this otherwise foreign (exotic) food oil into the US from several Asian regions. Different grades and categories of coconut oil, for instance, cold-pressed virgin, double-filtered, RBD oil (refined, bleached, and deodorized), hydrogenated, solidified-butter, etc., can be readily available in the US stores.
Cooking-grade coconut oil is sold in tin containers or inside plastic cans. While buying, look for freshness, and methods are employed in its extraction. Since RBD oil contains no free-fatty acids and volatile short-chain fatty acids, it is clear, has a neutral flavor, and possesses long shelf life. Certain manufacturing units claim cold processed oil features some degree of anti-inflammatory and anti-bacterial properties.
At home, store virgin coconut oil inside the refrigerator since it retains some bio-enzymes and free-fatty acids after cold-processing to prevent it turn rancid. RBD oil may stay well for longer periods kept at a cool, dry place away from a humid area.
Culinary uses
Despite being a high saturated fats food item, coconut oil is employed in daily cooking in many parts of the world. Native inhabitants of Polynesia, Micronesian, some South-East Asian regions, and the southern part of India (Kerala state) use it exclusively in cooking. Its use is fast spreading to other regions especially, in the US and Europe.
Coconut oil has a clear liquid appearance at temperatures above 25 °C. It becomes a gel-like semi-solid substance at a temperature below 25°C, thickens below 21°C, and solidifies below 14°C. Fresh, virgin coconut oil (VCO) has a pleasant, nutty aroma and sweet taste.
Here are some serving tips:
It used exclusively as cooking oil in many countries to fry, roast, sauteing, dressing, etc.

Its high smoke point helps for deep-frying food items, including vegetables, meat, and poultry.

Coconut oil also used in the preparation of vegetable shortening. Coconut shortening has found favor especially in children confectionaries like desserts, crackles, pastries, biscuits, etc.
Safety profile
Coconut oil, like that of coconuts, is safe to use in infants and the pregnant woman. Allergic reactions and intolerance to coconut oil as food are rare. (Medical Disclaimer).
Also read ≻≻-
≻≻- Coconut nutrition facts.
≻≻- Coconut water nutrition facts.
≻≻-Back to Dietary oils and fats from Coconut oil nutrition.
≻≻-Back to Home page.
Further Resources:
The Weston A. Price Foundation- A new look at coconut oil.

Coconut Research center- PDF (opens in new window)
---
---