Selection and storage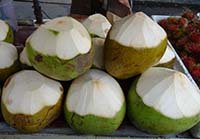 Tender coconuts- ready to use.
Fresh tender coconuts can be readily available in the markets in tropical regions year-round. However, they require importation into the semitropical and cold regions. Nowadays, ready to use tender coconuts, imported from Thailand and Malaysia, can be easily available in the USA, European Union, and Canada.
In the stores, coconut water also sold in packets, and bottles as well. However, its overall nutritional profile may not be the same and up to the mark in terms of vitamins and enzyme levels, since some additives and preservative need to be added to it to enhance shelf life.
At home, fresh tender coconuts can be kept at room temperature for about 5-10 days. Once opened, its liquid soon turns sour and off-flavored due to intense enzymatic activity. Instead, store it in the refrigerator if not used immediately.
Preparation and serving tips
| | |
| --- | --- |
| | |
| Refreshing coconut drink. | Iced coconut juice with tender coconut meat topping. Photo courtesy: Andrew currie. |
To prepare, use a long sickle to cut open its outer layer (exocarp) either at the top or bottom end and break the hard inner shell to expose inner cavity hoding the coconut water. Some expertise and caution are essential to do this job and to avoid injuries. Its water is then enjoyed using a straw. Otherwise, the whole fruit is turn upside down to transfer its water into a wide mouthed bottle or bowl.
Enjoy the coconut drink without any additions.

Iced coconut water can be a refreshing drink.

Fresh water can be made special drink adding lemon slices, mint leaves, and orange zest.

Its gel-like meat (kernel) inside the young tender coconuts is very sweet and delicious.
Safety profile
Coconut water is universally appealing drink. There are no known reactions of any sort notified so far drinking it. It is not only cherished in healthy but considered safe in pregnancy, infants as well as in illness conditions. (Medical disclaimer).
Note:
The discussion on this page is solely dedicated to water (liquid) or solution of tender coconuts, and not about coconut milk, meat, coconut oil or any products of the coconut tree.
Coconut water is one of the universally appealing, pleasant drink. It composes many naturally occurring bioactive enzymes, simple sugars, electrolytes, and vitamins. It not only cherished among healthy but considered safe in pregnancy, infants as well as in some diseases.
<<-Back to Home page from Coconut water.
<<-Read on Coconut nutrition facts.
<<-Read on Coconut oil nutrition facts.
Further Resources:
Coconut Research center- PDF.
---
---