Custom Search
Sweet marjoram nutrition facts
Sweet marjoram, also known as knotted marjoram, is one of the most traditional Mediterranean herbs grown for its culinary and medicinal values since ancient times. It has delicate sweet flavor, and subtle pungent (spicy) taste; comparatively gentler than oregano (Origanum vulgare).
Botanically, marjoram is a member of Labiatae family, of the genus, Origanum. Its scientific name: Origanum majorana. The Labatiacea family also includes some of the commonly known herbs and spices such as dill, anise, fennel, cumin, etc.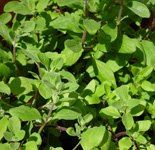 Sweet marjoram (Origanum majorana). Note for soft, oval dark green leaves.
Photo courtesy: Larry Hoffman
Sweet marjoram is native to Asia Minor (Turkey); however, it grows in plentiful all over the Mediterranean and southern parts of the Europe. This herbaceous plant is a small woody-stemmed shrub that grows abundantly in well-drained, lime soils. It reaches about 75 cm in height, features hairy stems with soft oval shaped dark-green leaves, and tiny pinkish-white flowers.
In general, its leaves can be harvested soon after the flowering buds begin to appear. To blanch, hang harvested stems in dark, dry room for about 7-10 days, then strip leaves from the stems and store inside an airtight container.
Several related species of marjoram grown either for culinary or therapeutic purposes. Pot marjoram (O. onites) has white or pink flowers. Winter marjoram (O. heracleoticum) has a strong flavor, similar to that of wild marjoram (O.vulgare).
Health benefits of marjoram
Selection and storage
Sweet marjoram can be grown as a potherb. Both fresh, as well as shade dried leaves, can be employed in the kitchens. Fresh marjoram leaves should feature deep gray-green in color and free from yellow discoloration. Its leaves are at their best when harvested just before flowering. Dry marjoram leaves and seeds can also be marketed in air-seal packets or containers.
Store fresh herb inside the refrigerator for extended use. Dried marjoram should be kept in a tightly sealed glass container in a cool, dark and dry place where it may keep fresh for up to six months.
Culinary uses:
Wash fresh herb in cold running water or rinse for few minutes to remove any dirt or pesticide residues. Dried marjoram leaves, in fact, retain or even has a more intense flavor unlike that of other dry herbs like sage, thyme, etc. In order to keep fragrance and flavor intact, it is generally added at the last moment into cooking recipes, since prolonged cooking would result in evaporation of its essential oils.
Here are some serving tips:
Medicinal uses of marjoram herb
<<-Back to Herbs from Sweet marjoram. Visit here for an impressive list of healthy herbs with complete illustrations of their nutrition facts, medicinal properties and health benefits.
<<-Back to Home page.
Visit here for very informative pages on:-
Further resources:
1. Stanford School of Medicine Cancer information Page- Nutrition to Reduce Cancer Risk (Link opens in new window).
2. USDA National Nutrient database.
3. Anti-microbial properties of marjoram.
4. Herbs- NC State University-pdf.