Selection and storage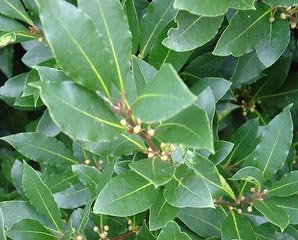 Bay leaf plant. Note for dark green leaves with flower buds. Photo courtesy: Andy
Traditionally, bay leaves are picked and dried slowly under the shade away from direct sunlight to retain their volatile essential oils.
In the spice stores, one might come across different kinds of bay leaf preparations. Completely dry, and ground (spicy powder) forms can also be sold in such stores. Buy from authentic sources and avoid those with off-smell, spots, or fungus-inflicted leaves.
Once at home, store bay leaf in an airtight jar or container and keep it away from direct light. Since they lose flavor early, laurel leaves should not be kept for longer than a year.
Dried bay laurel berries are also being used as a flavoring item in dishes.
Culinary uses
Glossy, dark-green bay leaves can be used fresh. However, they are at their best after being allowed to wilt under the shade for a few days till their bitterness has gone, but the leaves still retain their pleasing aroma.
If you stumble upon bay leaves in the cooked food, just keep them aside before eating. Besides being quite strongly flavored, the laurel leaves are leathery in texture and tough to chew and swallow.
Here are some serving tips:
Bay leaf is one of the ingredients in bouquet garni along with thyme, sage, savory, celery, and basil.

The spice is also used in the preparation of court bouillon. Court bullion is readymade preparation made of water, salt, white wine, vegetable aromatics (onion and celery), and flavored with bouquet garni and black pepper.

Its dried leaves brewed into an herbal tea.

Popular as tej patta, dry laurel leaf always found a place in the kitchen spice box in India. The leaf is added to flavor fried rice, biriyani, chutneys, etc.

Bay Laurel is also an essential ingredient in many classic sauces such as bread sauce, tomato sauce, and béchamel.

Bay leaves added to flavor cuisines such as seafood, poultry, meat, rice (pulov), and vegetable dishes.

Bay leaf is used to flavor sweet dishes like sweetbreads, custards, and creams.
Safety profile
Discard Laurel from the food before serving since they may cause choking, and injure the tongue and the digestive tract. Pregnant women should avoid eating them in excess as the chemical compounds in them may cause abortion.
(Medical disclaimer: The information and reference guides on this website are intended solely for the general information of the reader. It is not to be used to diagnose health problems or for treatment purposes. It is not a substitute for medical care provided by a licensed and qualified health professional. Please consult your health care provider for any advice on medications.)
≻≻-Back to Spices from Bay leaf. Visit here for an impressive list of healthy spices with complete illustrations of their nutrition facts and health benefits.
≻≻-Back to Home page.
Further reading:
USDA National Nutrient Database. (opens in new window).

Gernot-Katzer's spice pages. (Opens in new window).
---
---