Selection and storage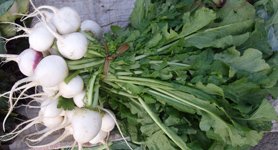 Turnip greens with tubers in a market.
Turnip tops are at their best during fall and spring. Fresh greens are also readily available all around the year. In the market, choose freshly harvested heads either alone or bearing the vegetable-tuber. Choose fresh-looking, young tender deep green leaves with a firm petiole. Generally, the top greens are tied in bunches and sold along with their small-taproot. In that case, look for small, healthy, firm turnip tubers.
Avoid yellow, sunken, wilted, or over-matured leaves as they are less appetizing and spoil early. As with any other greens, turnip tops also perish quickly and should be consumed as soon as its harvest.
Once at home, severe the top greens from the root, using a knife an inch above the root top. If left intact, the greens deprive moisture and nutrients of the tuber. Store them in the refrigerator set at high relative humidity of over 95% where they stay fresh for 2-3 days.
Preparation and serving methods
Turnips tops are at their best during winter and spring lasting from November until February. Wash the greens in cold water to rid of any surface dirt. Mop them dry using a paper towel. Chop closely using a paring knife for even cooking.
Turnip tops feature very broad leaves akin to beets or swiss chard with long and sometimes wide, thick petiole. Trim away any tough and woody petioles. Remove any old overmature, wilted, bruised leaves. Then, wash prepared leaves in a colander under cold tap water to remove any surface sand and dirt. Gently swish away excess water or mop dry using a paper towel. Chop the leaves and petioles to the desired length using a kitchen knife.
Young tender greens can be eaten raw or preferably mixed with other greens and vegetables. However, large mature leaves are quite bitter in taste as they compose loads of minerals and vitamins and are, therefore, preferred only after cooked, sautéed, steamed, or braised.
Here are some serving tips:
In the Southern states of US, many Southern-style dishes prepared using freshly harvested turnip tops especially mixed with complementing greens such as kale, collards, mustard greens along with bacon, and salt-cured pork in mouth-watering recipes.

In South Asia, turnip greens generally mixed with milder greens like spinach in the preparation of saag recipes. The greens can be added to stuffing, casseroles, quiche, stews, stir-fry, etc.

Although not as popular as kale chips, greens of turnips can be employed as chips.

Turnip greens can be juiced into a healthy drink. However, raw greens impart a bitter taste and a tinge of soreness to the oral mucosa. This can be avoided by juicing gently steamed greens in place of raw ones.
Safety profile
Oxalic acid content in the turnip greens is very small (0.05 g/100g) in comparison to other high oxalate content greens and vegetables like turnip-tuber (0.21g/100g), amaranth (1.09 g/100g), parsley (1.70 g/100g), etc. This bitter principle in mature leaves is because of their high mineral content. It can be minimized by boiling turnip greens in hot water and then discarding it before adding the greens in recipes. (Medical disclaimer).
≺≺ Back to Vegetables from Turnip greens. Visit here for an impressive list of vegetables with complete illustrations of their nutrition facts and health benefits.
≺≺ Back to Home page.
Further reading:
University of Illinois Extension-Watch your garden grow.

Oxalic acid content of selected vegetables-USDA.
---
---