Selection and storage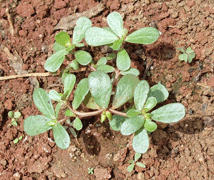 Purslane plant in a backyard.
In the market, buy fresh and healthy-looking purslane; look carefully for mold, yellow, or dark spots as they indicate inferior quality. Go for organic produce whenever feasible.
Wash fresh leaves and stems in clean cold running water in order to remove any sand and insecticide/fungicide residues. After removing it from the water, mop it with a soft cloth to remove any moisture in it before storing it in the refrigerator.
Purslane can be kept in the fridge for about 3-4 days but should be eaten while the leaves are fresh and not wilted.
Preparation and serving methods
The stems and flower buds are also edible. Trim the tough stems near the roots using a sharp knife. Cook under low temperatures for a shorter period in order to preserve the majority of nutrients. Although antioxidant properties are significantly decreased on frying and boiling, its minerals, carotenes, and flavonoids may remain intact with steam cooking.
Here are some serving tips:
Fresh, raw leaves can be used as salad and as vegetable juice.

Fresh, tender leaves are used in salads. Sautéed and gently stewed stems and leaves served as a side dish with fish and poultry.

It has also been used in soup and curry (Goni soppu curry) preparations and eaten with rice and ragi cake (ragi mudde/finger-millet cake) in many mouthwatering purslane recipes in South Indian region, especially in parts of former Mysore province of Karnataka state.

Stir-fried and mixed with other like-minded greens such as spinach and vegetables, it makes favorite dishes.
Safety profile
Purslane contains oxalic acid, a naturally occurring substance found in some vegetables, which may crystallize as oxalate stones in the urinary tract in some people. 100 g fresh leaves contain 1.31 g of oxalic acid, more than in spinach (0.97 g/100 g) and cassava (1.26 g/100 g). It is, therefore, people with known oxalate urinary tract stones are advised to avoid eating purslane and certain vegetables belonging to Amaranthaceae and Brassica family. Adequate intake of water is therefore encouraged to maintain normal urine output. (Medical disclaimer).
≺≺Back to Vegetables from Purslane. Visit here for an impressive list of vegetables with complete illustrations of their nutrition facts and health benefits.
≺≺Back to Home page.

Further resources:
Purslane - Weed it or eat it!- University of Illinois extension.

Stanford School of Medicine Cancer information Page- Nutrition to Reduce Cancer Risk.

Proc. West. Pharmacol. Soc. 45: 101-103 (2002).

Simopoulos AP, Salem N Jr. Purslane: a terrestrial source of omega-3 fatty acids. N Engl J Med 1986;315:833.
---
---