Selection and storage
Young, tender, succulent cacti-paddles are generally gathered during spring in Mexico for local use and to export to Europe and the USA. Fresh nopales can readily be available in the southern US states where sizable Mexican communities live. One can find canned nopalitos in brine in grocery stores as well.
Buy fresh, firm, pale green nopal pads from the farmer's markets specializing in Mexican vegetables. Avoid thick, mature pads as they are rough, pithy, and out of flavor.
Once at home, raw pads can be stored in the refrigerator for about a week or so. Diced or cut pads should be used as early as possible.
Preparation and serving methods
Nopales, fresh or preserved, have been the main part of traditional Mexican cuisine, especially during lean days. To prepare, hold the pad at its base and gently scrape off all the spines and bristles on either side using a blunt knife. Wash in cold water and mop dry using a soft cloth. Then, using a vegetable peeler, trim away the excess skin at the nodules. Cut into small cubes or uniform strips (nopaliots) as you may desire. One may also buy freshly prepared ready-to-use diced pads or nopales (strips) from the stores.
The flavor of fresh nopales features a mix of asparagus and french bean; in addition to having a chewy texture.
Here are some serving tips: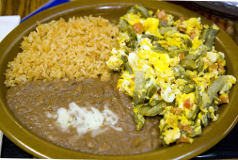 Mexican nopales dish. Note for cactus strips mixed with scrambled egg on the right side.
(Photo courtesy: pointnshoot)
They can be eaten raw in salads (Ensalada di nopales) and salsa (Nopal de salsa) with onion, tomato seasoned with salt, pepper, dried oregano and dress with olive oil.

Fresh nopal is used in soups, stews, juices, and cooked as a vegetable.

Fry strips in nopalitos fritos.

Boiled, and roast or grilled nopalitos are again eaten as a delicious side dish.

Pickled nopal is a favorite appetizer. Diced nopalitos, onion, tomato sauteed with scrambled eggs is a favorite breakfast during the Lent season in Mexico.

Cactus pad (nopal) juice produced industrially has been marketed as a wellness drink for its health-benefiting properties. However, such claims have yet to be proven scientifically.
Safety profile
Cactus paddles have been safely eaten by native Mexicans as part of their routine diet for centuries. Allergy to the cactus is relatively rare; however, individuals with known allergies to cactus should avoid using them entirely. Farmers who handle spiny-cactus while harvesting may sustain pricks, scratches, and bruises and therefore, should wear protective gloves, costumes, etc., to be on the safer side. (Medical disclaimer).
You may also like yo read:-≻≻-Read Prickly pear (tuna) nutrition facts and health benefits.
≻≻-Back to Vegetables from Nopales nutrition. Visit here for an impressive list of vegetables with complete illustrations of their nutrition facts and health benefits.
≻≻-Back to Home page.
Further reading:
Study of Nutritional Composition of Nopal (Opuntia ficus indica cv. Redonda) at Different Maturity Stages-pdf. (Link opens in new window).
---
---