Selection and storage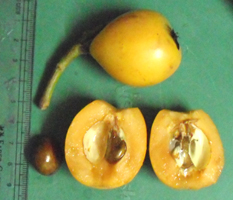 Loquat fruit internal structure with seeds.
Loquat fruit season begins in June in Japan. Generally, the fruits can be ready for harvesting once their skin turns yellow and the flesh becomes soft. Ripe fruits should be carefully picked up from the bunch and handled to avoid damage.
In the store, buy fresh ripe fruits featuring a bright-yellow, smooth surface and impart a mild yet sweet aroma. They should be devoid of any wrinkles, cuts, and patches on the skin. Avoid any overly soften fruits with spots as they tend to perish early.
Loquats keep well for up to two weeks in the fruit/vegetable compartment of the home refrigerator.
Preparation and serving methods
Wash loquats in cold water before consuming to remove any surface dirt or pesticide residues.
Its flesh just underneath the skin is rather sweeter than its central tart pulp. Skin can be peeled easily. Peeled fruits are eaten fresh or may be mixed with other fruits like banana, mango, and orange sections in salads.
Here are some serving tips:
Loquat Fruit sections are a great addition to fruit salads.

They also used in desserts or as a pie filling, or chopped and cooked to prepare a sauce.

Loquat fruit is also made into jam, jelly and poached in sugar syrup with cinnamon to make delicious loquat fruit syrup.
Safety profile
The loquat fruit seeds contain several toxic alkaloids like cyanogen-glycosides, which when consumed, can cause serious life-threatening symptoms like vomiting, breathlessness, and death. Children may be advised to avoid chewing seeds. Also, adults should supervise them while eating.
(Medical Disclaimer: The information and reference guides in this website are intended solely for the general information to the reader. It is not to be used to diagnose health problems or for treatment purposes. It is not a substitute for medical care provided by a licensed and qualified health professional. Please consult your health care provider for any advice on medications).
≻≻-Back to Fruits from Loquat fruit. Visit here for an impressive list of all varieties of fruits with complete illustrations of their nutrition facts and health benefits.
≻≻-Back to Home page.
Further Resources:
Stanford School of Medicine Cancer information Page- Nutrition to Reduce Cancer Risk.

Butterfield, Harry M. A History of Subtropical Fruits and Nuts in California. University of California, Agricultural experiment Station. 1963.
---
---