Selection and storage
Longan fruits can be ready for harvesting by July end and August first week. In the markets, choose round, brown longans with intact surfaces. Ripe berries just yield to thumb pressure. Avoid small, unripe, or dysmorphic berries, and those showing cracks, dried, and shriveled as they tend to be less flavorful.
At home, eat longans as much early as possible. Otherwise, place them in a cool, well-ventilated place for 3-5 days. Store in the fridge for 1-2 weeks in a paper pack to avoid moisture build-up. Peeled/seeded fruits, however, perish early and should be consumed early.
Preparation and serving methods
Longans can be used in the same way as lychee and lanzones. To prepare, just wash the fruit in cold water and mop dry using a clean towel. Peel the outer cover by splitting it near the stem end and then working downwards. You can either pit the fruit, or put it in the mouth, gently squeeze out (separating) the pit from the flesh between tongue and teeth, and spitting out the seed (pit) after sucking juice and aril.
Just like other soapberry family fruits like lychee, ripe longans are generally eaten raw out of hand. Enjoy their sweet and musky arils and spit out seeds.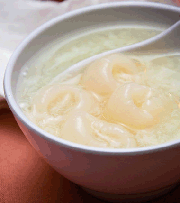 Longan egg-white souffle dessert. Photo courtesy: Chee.hong.
Here are some serving tips:
Longans are one of the popular table-fruits in South-East Asian households. Just enjoy them without any add on/seasonings.

They can be used in salads, additions in ice creams, sorbets, and shakes.

Whole, or pitted berry can be added to fruit salads with other complementing summer treats like mango, lychee, rambutan, snake fruit, etc.

Longan eggwhite whisked souffle is a popular dessert in the Vietnam.

Dried longans used in the Chinese hebal medicine as a relaxing infusion.
Safety profile
Unripe, raw fruits contain astringent compounds like tannins, which may burn the oral cavity, tongue, palates, and throat. Discard longans seeds.
Pregnant women can enjoy longans in limited quantities, but avoid chewing the seeds.
Research studies suggest that eating too many soapberry family fruits like longan, lychee, akhee, rambutan may result in hypoglycemia (low blood sugar levels), especially in undernourished children. The symptoms of hypoglycemic encephalopathy may include headache, thirst, sweating, vomiting, lethargy, seizures, coma, and death over a span of hours to days. (Reference: Spencer PS, Palmer VS, Mazumder R. Probable Toxic Cause for Suspected Lychee-Linked Viral Encephalitis. Emerg Infect Dis. 2015;21(5):904-905). (Medical disclaimer).
Also read ≻≻-
≻≻-Lanzone (Langsat) fruit nutrition facts and health benefits.
≻≻-Rambutan nutrition facts and health benefits.
≻≻-Lychee (litchi) nutrition facts and health benefits.
≻≻-Back to Fruits from Longans. Visit here for an impressive list of all variety of fruits with complete illustrations of their nutrition facts and health benefits.
≻≻-Back to Home page.
Further References:
Fruits of Vietnam. (opens new window)

Production guide.- PDF.
---
---