Buying
Greenhouse-grown Lamb's lettuce (mâche) is available year-round. Field grown green is often found in specialty stores and farmer's markets. Lamb's lettuce is at its best from May to November.
Lamb's lettuce is usually sold in small bunches, with its root still attached and often as a mixed salad green (mesclun).
Look for bright lively green, velvety leaves. Most American mâche is greenhouse-grown, imported from Holland. Choose fresh, green, springy, and glistening leaves.
Avoid limp leaves that have lost some of their green and show yellow discoloration.
Storage
Lambs' lettuce spoils quickly if not handled well. Use it soon after the purchase. If not, store wrapped in a paper towel, then place in a loosely closed or perforated plastic bag in the refrigerator for 1 to 2 days.
Preparation and serving methods
Lamb's lettuce is very tender and delicate tasting. To prepare, trim rootlets if any. Just before serving time, wash gently by swishing in cold water, changing the water if necessary. Do not soak leaves. Pat dry leaves carefully.
Its spoon-shaped leaves have an excellent nutty flavor that goes well with other mild-tasting leaves. For better flavor, season them only at the time of serving.
These greens are best suited for raw applications in salads and as a garnishing, although they are often braised in light sauces or steamed.
Do not use vegetables or vinaigrette with an overly strong flavor, so that its mild flavor is not masked.
Nut oil with lemon juice and salt will bring out its delicate taste.
Here are some serving tips: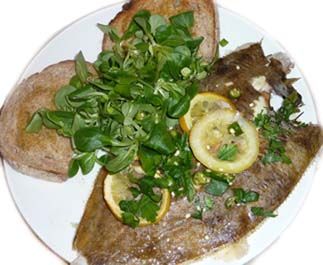 Lamb's lettuce over Lemon Sole and bruschetta. Courtesy: Luca Sbardella
Lamb's lettuce is delicious by itself, in a salad with nuts, apples, or beets or combined with tender butter-lettuce. These leafy vegetables add a distinctive, tangy flavor to salads.

It can be used as a garnish in soup. for this purpose, chop finely and add at the end of cooking.

It adds colors to omelets, potato salads, and rice dishes.

It can be incorporated into poultry stuffing.

Use cooked greens in recipes that call for spinach.
Safety profile
Lamb's lettuce is low-oxalate content leafy-greens which makes it as a suitable substitute for other greens like spinach. (Medical disclaimer).
Also read ≻≻-
≻≻- Stem-lettuce (Celtuce) nutrition facts.
≻≻- Lettuce nutrition facts.
≻≻- Iceberg lettuce nutrition facts.
≻≻- Stinging nettle nutrition facts.
≻≻-Back to Vegetables from Lamb's lettuce. Visit here for an impressive list of vegetables with complete illustrations of their nutrition facts and health benefits.
≻≻-Back to Home page.
Further Resources:
Mache (Valerianella locusta)-UC Master Gardener Program of Sonoma County. (Link opens in new window).
---
---