Selection and storage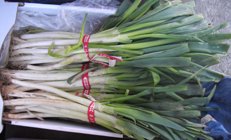 Fresh leeks in a market.
Leeks are available at their best during the spring season. However, they can be available fresh year-round in most supermarkets. While buying, choose fresh organic leeks as they are rich in flavor and nutrition. Look for uniform, long, firm, ice-white stalks with healthy root bulbs as they indicate fresh farm produce.
Avoid stems with withered, yellow discolor tops.
Once at home, wrap them in a paper towel and place them in the refrigerator where they stay fresh for up to a week or so.
Preparation and serving methods
Leeks impart a mellow, sweet onion flavor to the dishes they add to. They exude less pungency than garlic or onions. Although used sparingly outside the European continent, their delicate stems have recently found favor among Far-East Asian and Mediterranean cuisine.
To prepare; remove its lush top greens. Similarly, trim away the lower root end. In a large bowl of water, swish the stalk gently to remove any surface grit, sand, and soil. Drain and mop dry using a paper towel.
Peel their outer layers by hand. You may want to cut them into rings, slice lengthwise, or in squares using a knife depending on the recipes to prepare.
Here are some serving tips: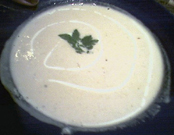 Leeks-potato soup.
Photo courtesy: Irina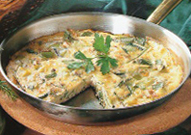 Leek zucchini cheese fritata.
(Photo from the essential vegetarian cookbook.)
Sliced baby leeks and young tender regular stems can be used raw in salads.

They mix well, especially with vegetables, cream, butter, cheese, seafood, and eggs.

Its delicate stems are one of the most sought after particularly in stews and soups. Potato-leek soup is a favorite Northern-European winter preparation, especially by British, and French (vichyssoise).

Julienned blanched (white) leeks used in the preparation of quiche with added leafy rocket (arugula) and herbs like basil.

They can also be employed in the frittata, pizza, and pasta, and like spring onions in noodles, fried rice, pulao, etc., in mouth-watering stir-fries.
Safety profile
Unlike other Allium species like onion, leeks carry less allyl sulfide gas and therefore, cause milder irritation to skin, mucosa, and eyes. (Medical disclaimer).
≻≻-Back to Vegetables from Leeks. Visit here for an impressive list of vegetables with complete illustrations of their nutrition facts and health benefits.
≻≻-Back to Home page.
Further Resources:
USDA National Nutrient Database. (opens new window)

University of Arkansas- Agriculture Extension. pdf (Link opens in new window).

Growing leeks-University of Minetosa Extension Service.
---
---