Selection and storage
Kabocha squash, being a winter or hard squash type, is grown in the warm season and can be stored for 3-4 months (through the winter).
Kabocha squash is available from October to January in the farmer's markets. Choose average size fruits featuring dry and intact stems. Avoid those with blemished/soft/rot stem, damaged, cuts/punctured, etc.
At home, Kabocha keeps for 2 to 4 months or more if stored in a cool, dry, and dark place.
Cut sections, however, should be used in the cooking early. If you choose to keep it extended use (up to 1-2 days only), then place it inside a plastic wrap in the refrigerator set at high relative humidity.
Preparation and serving methods
Kabocha squash is a popular winter vegetable in the U.S, Japan, and Canada. It can be used in any recipe calling for butternut squash or pumpkin.
Kabocha are known for their dry-textured flesh, which holds their shape in whole baked, stuffed, stews and curries. It is best suited for baking, roasting, steaming, stuffing, boiling, and sautéing.
Its rind is tough, and although edible, some chefs prefer to peel it before consumption.
It can also be sliced into rings or cubes and used in an endless array of recipes such as soups, salads, stews, gratins, sandwiches, and risotto.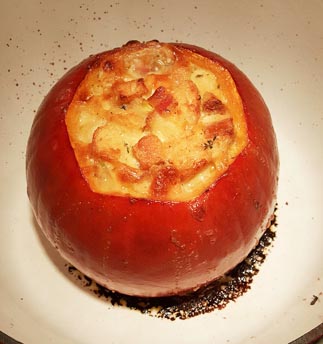 Suffed Kabocha. Stuffing includes bread, bacon, sausage, onion, celery, and herbs. Courtesy: Tim Evanson.
Here are some serving tips:
Kabocha is a popular vegetable in Japan, used in soups, sushi, and tempura dishes.

Raw kabocha is used grated into a winter salad, which add a sweet crunch and burst of orange color.

Cut Kabocha in halves, scoop off seeds, and stuffed with bread, grains, bacon, meat, cheese, mushrooms, and leafy greens and herbs, and bake in oven.

Enjoy kabocha squash gratin with complementing vegetables, or sausage.

Mashed/pureed Kabocha is a healthy alternative to mashed potato.

Baked and pureed or mashed kabocha flesh can be used as a filling for empanadas, enchiladas, and ravioli, or used in desserts, pies, puddings, and bread.

Kabocha squash makes a delicious creamy soup.

Kabocha squash kernels can be eaten as snack. Simply toast the seeds in the oven and enjoy!
Safety profile
Allergic reactions to kabocha squash are rare. Pregnant women and infants can safely enjoy it. (Medical disclaimer).
You may also like to read ≻≻-
≻≻- Spaghetti squash nutrition facts.
≻≻- Acorn squash nutrition facts.
≻≻- Delicata squash nutrition facts.
≻≻-Pattypan squash nutrition facts.
≻≻-Back to Vegetables from Kabocha Squash nutrition. Visit here for an impressive list of vegetables with complete illustrations of their nutrition facts and health benefits.
≻≻-Back to Home page.

Further reading:
Kabocha and Buttercup Squash for Western Oregon Gardens- Oregon State University Extension Service.

Watch your garden grow- University of Illinois Extension (PDF).
---
---